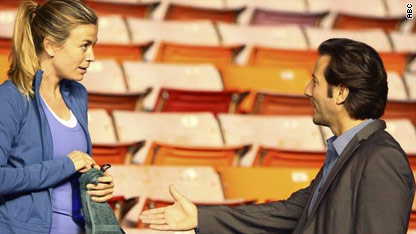 [Editor's Note: You know the drill by now. If you haven't seen this episode of "Lost" yet, DON'T READ ANY FURTHER.]

When Desmond finally showed up on the island at the end of last week's episode, you just knew something major was coming. And thanks to our favorite "constant," the reasons for this season's "flash-sideways," as well as Charles Widmore's ultimate plan, appear to be getting clearer.
We've known for a while that Desmond has a "talent," as Widmore put it. What's easy to forget is where they all started: the electromagnetic pulse at the end of season two. Well, Widmore had to test Desmond to see if he could survive such a pulse again, and that sent us hurtling into the alternate timeline... where Widmore, George, Charlie, Jack, Faraday (or Danny Widmore here), and yes, Penny are all still a part of his life.
Another thing happened at the end of season two: in a flashback, Widmore offered Desmond a job, when in fact Desmond wanted Penny's hand in marriage. In this timeline, Desmond took a job and is now Widmore's right-hand man, never even having met Penny.
Widmore asks Desmond to pick up Charlie from jail, and this time, it's Charlie who opens Desmond's eyes up to seeing another point in time, describing a vision of Claire (odd that he never saw her on the plane). Then in a wild plunge off the road and into the water, Desmond sees a vision of Charlie's final moments at the Looking glass, soon making him a believer in the "real" timeline, after encounters with other members of the Widmore clan, including, finally, Penny, where Desmond first met Jack.
Awakening after surviving yet another electromagnetic event, Desmond is completely on board with Widmore's plans... then when he and Widmore's people are ambushed by Sayid, he is completely on board with following him as well.
That momentum I talked about last week is even stronger now with five episodes to go, but plenty of questions still remain:
– We still don't know where Desmond disappeared to while on the plane.
– Earlier in the season, the castaways seemed more or less better off in the other timeline, but lately, it has been less so, especially with Desmond as this episode began.
– Desmond now has a mission in both timelines: He wakes up, asks Penny out, and asks George to help him visit everyone on Oceanic Flight 815, as he has something to show them. Desmond is now jumping back and forth between timelines, just as he did between the past and present. On the island, his mission is to help Widmore stop the Man in Black (though he doesn't quite know that now)... but at the same time, he appears to trust Sayid and go with him. Wherever he ends up will probably be crucial to what happens at the end of the series.
– Charlie has some idea that the alternate timelines exist. Can anyone see this, but only some people see it as being anything other than a dream?
– "In the know" in the alternate timeline: Faraday/Dan Widmore, Eloise and now Desmond. Does Charles Widmore know?
– Like Sun and Jin, Penny and Desmond seem meant to be, in all timelines.
Your turn: Share your theories, thoughts and more on video, or in the comments below.