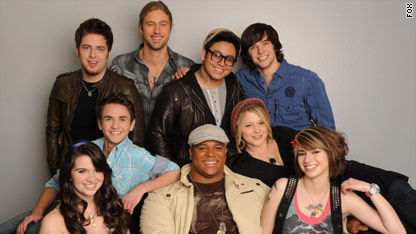 SPOILER ALERT!!! Tonight's blog entry will reveal the contestant being sent home from "American Idol." Don't read any further if you don't want to know the results.
10 p.m. – Simon makes the announcement about the judges' save and they save "Big Mike!"
Whoa, that was close!!!!
9:57 p.m. – Seacrest no need to make America feel bad by reminding us that both Mike and Andrew are fathers trying to make a better life for their kids.
And the one who is safe is .. Andrew!
WHAT?!?!?!?
I did not see that one coming at all!!!
"Big Mike" sings "This Woman's Work" while his wife sobs in the audience. Will the judges save him?
9:48 p.m. – Before we find out who is going home, we are treated to Rihanna singing her new single, "Rock Star 101." She certainly looks it in that get up. Gotta love the black, one-piece rubber suit thingie.
Hey, one of Rihanna's back-up dancers looks like MamaSox's little sister!
So we are to believe that Rihanna plays the guitar now? Sure, why not.
The pyrotechnics are off the hook with this performance, and the audience is loving it. You better work Ri-Ri!
9:32 p.m. –I love David Archuleta (I've interviewed him, and he's just as nice as can be), but I'm not sure we needed him back this season to sing "Imagine."
He does sound great, but his appearance makes me just miss past seasons of this show all the more. Remember back when the majority of the contestants could really sing and perform?
OK, I take it back. It's really good to see Arch on the piano and back on the "Idol" stage if for no other reason that to help us "Imagine" a better show!
It's been two seasons since his, and he has grown as an artist. Looking forward to hearing his next album.
We get Arch off, and the lights dim. Lee Dewyze is up first. He is instructed to head to the far side of the stage.
"Big Mike" Lynche is up next, and he looks like he is about ready to bust out of his shirt a la The Hulk. Mike has to start another group, and he looks a little shell-shocked. I do not like the direction this is headed!
Casey James gets sent to stand with Lee. Aaron Kelly has to go stand next to "Big Mike." Likewise, Tim Urban heads over to hang out with Casey and Lee.
That leaves Andrew Garcia to join Aaron and "Big Mike." One of the group of three is safe, and the other is bottom three. Clearly it's "Big Mike," Aaron and Andrew.
The person who gets sent back to safety is Aaron. WHAT?!?!?!
Andrew or "Big Mike" is headed home. Stunned, I am.
9:23 p.m. – All three of the girls are safe, and they are looking mighty happy. Katie looks shocked when Seacrest reveals that Adam Lambert will be next week's mentor.
Yeah, I'm stunned, too.
Kara's artist (who knew she had artists?) Jason Derulo performs his hit single "In My Head," and he sounds so much better than Usher did last week. He also gives Usher a run for the money in the performance department.
You might need to watch your back Ursh, 'cause that was hot!
9:15 p.m. –Tim Urban is always feeling good. That dude is just always about the fun vibe.
First up is Siobhan Magnus, and we get to hear from Kara as to why she was confused by Siobhan's performance. After the nationwide vote, Ryan brings her down to the center of the stage. That could mean anything.
Next up is Crystal "MamaSox" Bowersox and Ryan brings her down for to the center of the stage also. Stop playing with our minds Seacrest!!!
He then brings Katie Stevens to the center of the stage and keeps up the appearance that they are the bottom three. Stop with the foolishness, Ryan! MamaSox gets sent back as she is safe.
That leaves Siobhan and Katie left and guess what – they are safe too! Way to try and work the drama Seacrest.
9:05 p.m. – Sounds like "Idol Gives Back" is going to be offering up some great auction items, though I definitely would not want one of Simon Cowell's tight T-shirts.
The gang is all decked out in black and white and singing the songs of Lennon and McCartney. I am still nervous about Seacrest's assertion that producers are claiming a shocker.
My colleague and fellow "Idol Chatter" bud Michelle Wright had predicted a possible use of the judges' save tonight. It might could happen folks, though I doubt it.