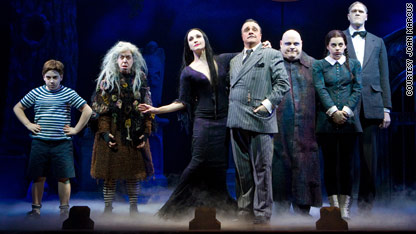 The Addams Family in a musical? Yes. Lurch? Uncle Fester singing? You betcha.
A musical about a family who dabbles in the dark side may initially seem improbable. But Goth is hot. And when you stack the deck, er, cast with Broadway veterans: Nathan Lane and Bebe Neuwirth, the word "flop" scares easily.
Lane and Neuwirth have a lovely bunch of Tony awards between them, and now along with their many theater accolades, they command the stage of the Lunt-Fontanne Theatre together.
Nathan Lane embodies Gomez Addams with spot on comic timing and charm while Bebe Neuwirth lithely slinks into the role and the clothes of Morticia Addams all dry wit and dark humor. Neuwirth even throws out a few Bob Fosse moves in her dance numbers. The show - replete with well known family members Pugsley, Grandma, Uncle Fester and Lurch - centers around daughter Wednesday Addams and the "normal" boy she has fallen in love with.
Trying to get the Addams family to have "One Normal Night" is one of the numbers in the first act.
Staying true to the original Addams haunted household, the show has its own spooky trappings; like lovely dancing corpses dressed in white, and at least one song about death being just around the corner. But the show puts comedy before drama, and the macabre.
The story's timeless theme is really about relationships and how to care for them. This keeps these Addams current, along with jokes that touch upon what's going on in today's society. There's even a one liner about healthcare that's not scary at all.
Most people may remember the Addams Family from the 1960s television series shot in black and white. The creepy clan even made it to the big screen in the '90s. However, this family first came to life in print, all the way back in 1938 at the hands of American cartoonist Charles Addams who drew the morbid characters for The New Yorker Magazine. All versions that followed, animated or live, originate from his crafty drawings.
Opening night for The Addams Family musical is just a few days away on April 8. But perhaps even more exciting for the cast - a visit from the First family. Last month Michelle Obama brought daughters Malia and Sasha to a preview of the show. Of course the Secret Service had to sweep the theater first. Like I said, Goth is hot.