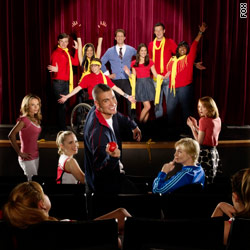 Gleemania is everywhere as fans eagerly await "Glee's" return to Fox on April 13, and "The Oprah Winfrey Show" is no exception.
The cast of Fox's freshman phenomenon paid a visit to Winfrey's Chicago studio Wednesday, and it was hard to tell who was more excited: the "Glee" actors because they were on "Oprah," or Winfrey because she got to hang out with everyone's favorite glee club.
To hear Amber Riley (who plays Mercedes on the show) tell it, Winfrey got ahold of the group just in time. "We were planning a trip to Cabo [San Lucas], but we found out we were going on the 'Oprah' show," Riley said. And for this cast - all of whom are friends off set as well - " 'Oprah' trumps Cabo," she added.
The past year has been "a wild ride for all of us," said Matthew Morrison, who plays Will Schuester, the glee club's director. No one expected the show to become must-see TV, taking the cast everywhere from the red carpet at the Golden Globes to the White House for an Easter Egg Roll. For Morrison, the appeal is all in the songs.
"Music is the language that everyone in the world speaks," he told Winfrey. "It's universal."
And it's one of the few shows that holds a bright note throughout its script, said "Glee" co-creator Ryan Murphy.
"I wanted to do something optimistic," he told Winfrey. "I thought there wasn't anything on television that's upbeat and had a happy ending every week. I was as surprised as anyone that it got picked up."
The "Glee" actors work 16-hour days to make it all happen, often hitting the dance studio at 7am before heading to a recording booth (the cast records all of their own music), and then finally taping their song and dance numbers at a high school. It can be grueling, Morrison said, but it's without a doubt a fun gig, and has even been therapeutic for Chris Colfer, who plays Kurt Hummel on the show.
"When I was in high school I was daily reminded of my imperfections by students and sometimes by teachers," Colfer told Winfrey. As a teen, Colfer was picked on daily,although he added that most of it was self-inflicted because he was "very intense." Nevertheless, to now "be part of a project that celebrates your differences and makes your disadvantages your advantages is very therapeutic."
Lea Michele, who plays the ever-so-focused Rachel Berry on the series, said the show has reminded her of the trials of being a teenager as well. "I've been performing since I was 8 on Broadway, and I was very much like Rachel when I was younger; she knows who she is and she's proud of that," she said.
But as a result, at school she "was looked at as the musical theater girl," Michele said. "It was odd to them and they didn't understand it. It was cool if you played sports. That's why I love our show, because it's like, you can be cool too."
When it came to casting, co-creator Ryan Murphy told Winfrey that finding unknowns like Cory Monteith – who, before landing the role of Finn Hudson, sang only in secret – gives the series it's particular 'glee'-ful spirit.
"The show is about celebrating the difference in you," Murphy said. "At that age, you think the difference in you is the worst thing, and as you get older you realize it's the best thing."
"Glee" moves to Tuesday nights at 9 p.m. on Fox next week with a few surprises in store, like a forthcoming episode with Neil Patrick Harris. On 'Oprah,' viewers got a behind-the-scenes glimpse of the episode, where Harris will play Bryan Ryan.
"He's kind of a villain," Harris explained, "so don't hate me when you watch the show."