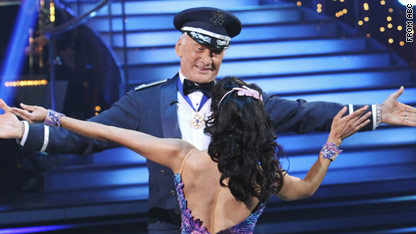 testing captions
He was a sweet and debonair presence on the dance floor, but Buzz Aldrin is finished competing on "Dancing With the Stars."
The legendary former astronaut was voted off the show last night, earning a standing ovation from the audience and a salute from the other contestants as he bid farewell to the crowd.
"I did the show for the fighter pilots out there, the military people and the elder geezers like me who would just like to see an elder come back week after week," Aldrin said after the elimination.
The judges consistently scored Aldrin, 80, at the bottom of the pack, but his quiet charm, dedication and status as an American hero made him a sentimental favorite. Whatever his body couldn't do, he made up for with a big dose of enthusiasm. Give him credit for competing with contestants decades younger and for entering the alien world of ballroom dancing and having fun. (And however you felt about his routines, it was hard not to think "This. Man. Walked. On. The. Moon!")
Jake Pavelka, best known as "The Bachelor," ended up in the bottom two on last night's episode and looked relieved that he would get the chance to continue dancing.
Once again, producers kept the fate of reality TV star Kate Gosselin up in the air until the last minutes of the show, but she was declared safe. She pretended to faint in the arms of her professional partner Tony Dovolani at the news, prompting co-host Tom Bergeron to quip, "No fainting!"
What did you think of the results?