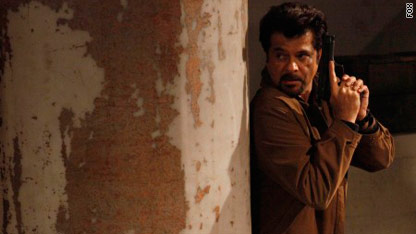 "24": Day 8 - 6 a.m. to 8 a.m.
Welcome back Bauerites. I must confess, the limits of my "24" fandom were pushed to the brink last night. I was faced with the daunting choice between watching Jack Bauer's heart-stopping race against time to thwart a terrorist plot, or tune in to a classic "David versus Goliath" battle for the NCAA basketball championship.
Needless to say, the repercussions of making the wrong choice would be huge. After all, if I miss an episode of "24," I'm just not a fun guy to be around. On the other hand, I like college basketball and this match-up just can't be missed.
Well, you know exactly where my loyalties lie. I dutifully watched the two hours of Bauer power and then made the switch to see exactly how things played out with Duke versus Butler. As a result, I hit the jackpot TWICE! A fantastic, super-sized episode and an unforgettable NCAA men's basketball final all in the same night.
But without further ado, let's talk "24."
First of all, the show got moving quickly, and it was an amazing two-hour ride. There were many moments worth mentioning, such as Jack's call to President Taylor to warn her of the betrayal in her midst. I had a good feeling about the discovery delivering some fun for me as a viewer, and it certainly did.
The president was passing out smackdowns, and Rob Weiss was at the front of the line. Since this guy has been on my list, it was delightful to see him get what he deserved. A small part of me agreed with Weiss and Brucker, and we could argue that they (kind of) saved the city, but their underhanded plot wasn't the way to go.
Now, let's talk about Dana Walsh. Bauerites the world over have serious issues with this character for all she's put us through. Katee Sackhoff (who plays Walsh) would have a hard time getting a warm coat in a snow storm, or a spot under an umbrella in a torrential downpour if we had anything to do with it. This actually means she has done something right on the show. Last night, my hatred swelled to unprecedented levels as she tried to escape CTU and its inept security force (seriously?), and that means she's doing a fine job in the role. That "fine job" line was hard to type just now. Nice work Ms. Sackhoff. I'll just stop there.
Meanwhile, for all the readers who were asking for more "blog-love" for President Hassan (played by Anil Kapoor) - it starts here. But as you know, it also ends here. From his impassioned pleas to Mrs. Hassan as he prepared to give himself up, to the moments that led to his demise, these were just more examples of the terrific efforts Kapoor has turned in all season. Whether he's on camera for four minutes or forty seconds, his scenes have been compelling performances time after time.
Now, raise your hand if you actually believed Jack would save him, because I did too. As Jack and Renee made their way into the apartment building, you could feel the tension building to unprecedented levels. I thought the entire situation played out as one of the season's finest, and the writers gave us more than we could absorb. Renee noticing the blonde wig on the floor and being first to pull the trigger as her life depended on it was riveting and well done.
The show was chock full of jolting moments like this one, but to see President Hassan sitting there with his throat cut as the pre-recorded video played on the monitor was shocking, to say the least. More than that, it was clever and really got to me.
Speaking of clever, I wouldn't feel right about this blog not mentioning Chloe's work running the operation. Her quick analysis of the small details along the way were great to watch, and I believe Chloe could figure out exactly how Stonehenge was built if we gave her some computers and about 45 minutes to work out the math.
"24" was dead on last night. These two hours were arguably the finest of the season, and that momentum has been building for more than a month with great show after great show. For all the grumbling along the way, "24" has delivered repeatedly in recent weeks, and as I changed the channel to see the ending of "David versus Goliath", I was satisfied and spent.
Loved, kinda liked, or hated the show? Let us know.