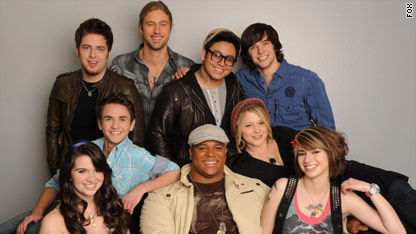 9:51 p.m. – OK, MamaSox is even cooler in my book for recognizing the Lee Dewyze/Danny Gokey resemblance!
The contestants tease Lee and Andrew for their closeness. I think it's cute. Lee needs to up the confidence even more and stop thinking he sucks so bad. I mean, yeah, this season pretty much sucks, but he shouldn't carry all of the responsibility on his shoulders.
His "Hey Jude" is accompanied by a bagpipe? Seriously?!?!?
Was he trying to top MamaSox with the strange duet? Ellen cracked me up when she mentioned the "guy who got separated from his parade." LOL!
Kara calls him hot. Simon keeps it real and calls it out for the utter foolishness that was the bagpipe. I think we have just seen the extent of Lee's risk-taking.
9:37 p.m. – Sibohan Magnus gets called out for being "weird."
I so agree.
Her version of "Across the Universe" starts out rough for me. She looks great but sounds nasally to me. Overall, I was bored. Folks keep wanting her to be the female version of Adam Lambert this season and to me, she couldn't even carry his guy liner.
At least she let go of the screech this time around. The judges are still loving her, though.
She gets a little teary eyed talking about her sister, but I loved the look on Simon's face while she was talking. I am gonna miss him so much!
9:25 p.m. – That couple from "Bones" is in the audience next to Lacey Brown.
Now that we have that out of the way, Casey Jones sings "Jealous Guy," and dude does have some beautiful hair. He goes for the curly tendrils tonight, and I am jealous of that 'do!
I like him and the acoustic guitar. There is something about Casey that goes beyond the cuteness factor. He definitely has talent, though I am not sure what an album from him would be like.
It was a strong performance from him.
9:12 p.m. – That dude Ernie who played with MamaSox is going to have his phone ringing off the hook now.
Me thinks everyone on "Idol" has a crush on Tim Urban. How could you not? He's freakin' adorable!
"All My Loving" actually turns out to be a good song choice for him. Light, fun, and catchy.
But let's be real here: At this point, that kid could sing the ABCs and he would still get votes. My mother groans that "Tim needs to go home," but he seems almost invincible.
His hair supposedly looks more like a Beatles  'do this week, but to me it just looks like it does every week. Simon even praises him for his performance this week.
Clearly, the "deer caught in the headlights" style of performance works for him.
9 p.m. – Mike lifted someone up in the air again. I am so over that.
Crystal Bowersox's hometown is so proud of her, and they should be. She is kicking butt this season.
MamaSox's little boy is a cutie. I think it's cool that she and Lee Dewyze stood next to each other during the Chicago tryouts. That's a great story to retell when they are the final two standing.
Wow, did I just prophesize?
Her "Come Together" sounded great, even with her having a cold. I'm sick to death of her blowing everyone away each week. If this chick released an album tomorrow, I would buy it. I can't say that about anyone else on the show.
I love, love, love me some MamaSox.
8:46 p.m. – I am glad that Andrew is having fun, but dude you need to focus on trying to run.
"Big" Mike Lynche seems like a great guy though I am not sure how I feel about his singing family being called the "Lynche Mob."
His version of "Eleanor Rigby" is classic Mike at this point. Say what you will about this dude's singing, but he knows how to work a performance. He's a big dude, with a big personality and I suspect a big ego to match.
But when he takes to the stage, he's going to do him regardless. Like Crystal Bowersox, he knows who he is as an artist and he stays in his lane.
Work it out Boo.
P.S. Way to work in mad shout outs to "Glee," a show I heart so much!
8:35 p.m. – Does everyone get a hug after their performance? I guess so.
Andrew Garcia is cool, but I really need him to step up his game. We all had such high expectations, and he has not done his best. His hair is looking crazy tall tonight.
His version of  "Can't Buy Me Love" was supposed to be rousing, I am guessing, and yet it came off as weird to me. I wasn't sure whether I was supposed to be swing dancing or what, but the arrangement was not at all what I expected.
I agree with Kara that I wanted to love it. I really did.
8:23 p.m. – Wow. That backstage with Aaron was painful. He said he still feels confident, but he looks like he is about to cry.
Next up is Katie Stevens, and we learn that she has been getting lots of prom date requests and likes to do the "Single Ladies" dance. That is soooooo 2008.
She sings "Let It Be," and I am loving her! She looks great, and she sounds awesome. She's done a version that is more R&B- and gospel-tinged. Well done, young Katie!
8:11 p.m. – They call Aaron "Yoda?" That's kind of funny.
I like having the contestants talk about him. He's singing "The Long and Winding Road" which I heart so much.
Is it me, or does it sound like young Aaron's voice is changing? It seems a little bit more gravelly. I have the pleasure of watching with my parents who are visiting for the week (that's a whole other blog), and my mom is crushing on Aaron.
She "liked the way he made the song his own." Sorry Mom, but it didn't thrill me. I agree with the judges that it was kind of slow and boring. He tried to stay faithful to the original, and it seemed very safe.
I like that he tried to answer Kara back, and she had to tell him "Sweetie, use the microphone." Simon is back to the "old-fashioned" remark, and that got a huge "boo" from someone in the audience.
8:05 p.m. – Awwwwww.
I was hoping that Paul McCartney would mentor this week, but at least we had a video of him wishing the contestants well.
Aaron Kelly will be up first. Can't wait.