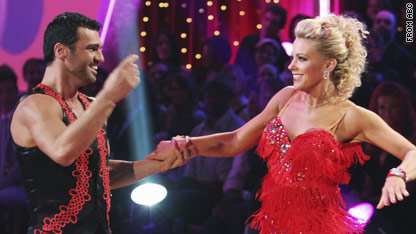 testing captions
You know it's going to be an interesting night on "Dancing With the Stars" when you can't recognize some of the couples walking down the grand staircase at the beginning of the episode.
Last night, the celebrities and their professional dancing partners were supposed to tell a story through their routine, which explains the extra dose of wigs, costumes and eyeliner they donned for the competition.
There was singer Nicole Scherzinger in a brown, curly wig and a sailor's outfit; former astronaut Buzz Aldrin came down in a military uniform, followed by someone dressed as Cleopatra and wait… who is the woman with the waist-length blond extensions and heavy make-up?
Kate Gosselin's look and routine last night will likely launch a few thousand more comments from fans who either love - or love to hate - the reality TV star. Once again, producers scheduled her routine for the last minutes of the show, complete with rehearsal footage filled with the drama and tears we've come to expect from Gosselin and the resigned sympathy of her partner Tony Dovolani.
This one also had an acting coach and a punching bag thrown in to get Gosselin to channel her emotions into her Paso Doble, which was supposed to tell her struggle with the paparazzi. The routine, danced to Lady Gaga's "Paparazzi," had Gosselin glaring angrily at Dovolani and stomping around to the beat of the music in her dramatic costume. (It did seem to be an improvement over last week's jive in which Gosselin either didn't know or remember many of the steps.)
But judge Carrie Ann Inaba called it "odd" and said it was hard to watch and the other judges agreed. Still, Gosselin stood her ground. "I am very much enjoying this challenge" despite the negative feedback, she said after the routine.
The highest scores of the night went to Olympic figure skating champ Evan Lysacek, who danced a fun quickstep to a song from "Chicago," complete with a perfect cartwheel at the end. Buzz Aldrin was once again at the bottom of the pack after his waltz.
There was no mention during the show of the death threats ESPN correspondent Erin Andrews has been receiving and she seemed carefree in the rehearsal footage and during the evening. It was probably too late to change the routine, but her waltz - in which she danced blindfolded – seemed a bit creepy under the circumstances.
Meanwhile, actress Pamela Anderson admitted she cried after she ended up in the "bottom two" during last week's elimination.  Will she do better after getting some dance lessons from Charo?  We'll find out tonight.
Who do you think will be voted off?