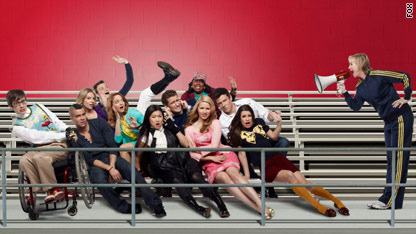 "Glee" haters beware. For the past year, Fox's musical TV show turned object of fan obsession has been on-air, online and on your iPod (just admit it). The constant buzz might have seemed overwhelming - until now.
Monday marked the start of what the Fox marketing team is calling "Gleek Week," a week-long flurry of "Glee"-centered activity, promotion and love for their hit show.
In other words, if you thought it was too much before... hide.
Going to be online? Watch a new trailer that allows fans to connect with their favorite characters on Facebook. Watching television? Listen to "Glee" cast members tell you what's up next on Fox. Surfing your iPhone/iPad? Yep, you guessed it - there's an app for that.
When you log into MySpace, "Glee" will takeover your homepage in animated splendor. When you watch Oprah on Wednesday, your favorite high school singers will be telling all. When you visit Fox.com later this week you'll be able to fake pictures of you and the "Glee" stars to share with all your family and friends. All this, of course, while you're filming your submission video for the "Glee" open casting call.
The campaign leads up to the long-awaited return of the show, which airs Tuesday, April 13 at 9:28 p.m. after "American Idol." I'll be there with my "Gleek" on. Will you?