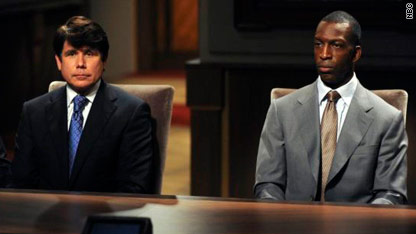 I am convinced that Rod Blagojevich, the former governor of Illinois, does not know how to make decisions - the latest episode of "Celebrity Apprentice" proves it.
He and the other project manager, Selita Ebanks, flew to Orlando, Florida, to spearhead this week's challenge: to create a 3D interactive display for the "Wizarding World of Harry Potter "attraction. They could not communicate with their team until they landed.
When that moment arrived, Blagojevich — well, once he could determine how his phone worked - named Bret Michaels as the one in charge back in New York.
Ok, he made one decision.
For once, Michaels actually wanted and needed direction, since the vision, executives and guidance were in Orlando. Blagojevich couldn't provide it. He told him to do what he thought was best. Later, Michael Johnson asked for direction as well. Same response. Come on! Is this really how he ran a state?
This mindset, plus his not knowing how to email or text directions like Ebanks did with her team, cost the men's team the challenge.
In the boardroom, I wondered if the men wanted to shake Blagojevich as much as I did. Trump did the right thing and fired Blagojevich.
I liked Blagojevich more when he greeted every person on the streets of New York and told them he did nothing wrong. That's not saying much, since I hated that.
Poor guy. Maybe now he'll have time to learn how to use a computer and a phone. He should see a career counselor, but what career path do you see him pursuing?
I was wrong about Selita Ebanks. She is not quiet. She told the boardroom that Blagojevich napped on the return trip from Orlando to New York. Blagojevich denied it, so I would've liked it more if she had called him a liar for saying his eyes were open behind his shades. In any case, I underestimated her. She's one to watch. Do you agree?
One word for Bill Goldberg, however... moody! Well, I guess I might have an attitude too if someone made me dress like a tree.
My top four picks are still in the running. Are yours? Who do you think will be eliminated next? The women have won three in a row. Will the men ever break their streak?