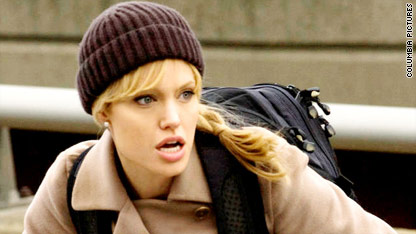 Hey Trailer Parkers! We're back with our second installment of your one-stop shopping for all things movie trailers.
Now, before I get into this week's goodies, I would like to point out two little things regarding last week's offering: First, my apologies for spelling Olivia Wilde's name wrong. I used a "y." Y? I don't know, but the mistake has been fixed and I promise to work extra hard to spell all things correctly this week. Secondly, I characterized "Tron Legacy" as a re-make, when, in fact, it is a sequel.
Thanks everyone for your comments and feedback. Now, here are three trailers that grabbed my attention this week!
Say what you will about megastar Angelina Jolie's personal life - fans flock to see her in action movies. From "Lara Croft" to "Mr. and Mrs. Smith" to "Wanted," Brad's main squeeze knows how to squeeze every last drop out of an adrenaline-filled script.
In her latest feature Angie teams up with action director Phillip Noyce. He lures us in with the star's best bad girl expression, keeps us around with some sensational action sequences, and of course, introduces us to Hollywood's ultimate indestructible material - Angelina Jolie's lip gloss. If your summer needs a few more car wrecks, fight scenes and a gun-blazing good time, you might consider adding some "Salt."
So, while I was at Sundance this year I got the chance to see "Casino Jack and the United States of Money." Now, the trailer is out and, well, if you've ever wanted an explanation of what's wrong with Washington D.C. in the form of a two-hour documentary, the wait is over.
The film is the brainchild of well-respected director, Alex Gibney, who did "Enron: The Smartest Guys in the Room" and "Taxi to the Darkside," for which he won an Oscar. This time, Gibney targets fallen Republican mega-lobbyist Jack Abramoff.
The buzz out there is that the folks behind "Macgyver" are not that thrilled about the SNL skit, "Macgruber" becoming a full length motion picture. But, even the film's biggest opponents have to crack a little smile when they see the latest restricted trailer for the upcoming action comedy.
It's filled with action, bad words and a villain's name you're not soon to forget. Let's just say they do a whole bunch of stuff in this trailer that they can't do on NBC. Parents, this one's not for kids.
Okay, that last one was for grown-ups, so this one is for the kids. "The Sorcerer's Apprentice" appears to be part "Harry Potter," part "Ninja Assassins" and a whole lot of fun. Folks at Disney probably figure if the collaboration between Nicolas Cage, super-producer Jerry Bruckheimer and director Jon Turteltaub was good for a "National Treasure" franchise, why not "The Sorcerer's Apprentice?" What do you think?