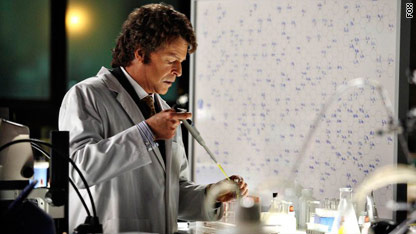 When we last left "Fringe" (about two months ago), Olivia rediscovered her ability to tell which objects came from the parallel world... complicating things quite a bit for Walter when she took a good look at Peter.
Well, Walter certainly had some explaining to do, which sent us back to where all the trouble began, 25 years ago. A much younger, saner Walter was showing off his latest invention to some government officials: a mirror/monitor that served as a window to the other world, where dirigibles docked at the Empire State Building. And, cue "Fringe" '80s opening credits. It was at this moment that my jaw hit the floor. Is it possible to get an Emmy for Best Intro to an Episode?
Even if such a thing doesn't exist (for shame!), John Noble delivered an Emmy-worthy performance here as Walter watched in horror as the cure which would have healed his dead son in the other world slipped through his (or rather, the parallel Walter's) fingers. It turns out that one of the Observers made a little mistake, one which he had to confess to two other Observers walking out of a screening of "Back to the Future," seeming awfully confused. Since Peter is "important," he had to do whatever he could to correct his accidental interference in the course of history.
As Walter set out to do some correcting of his own by making a trip into the other world, we find out what happened to Nina's hand as it was caught between worlds while she tried to stop him.
Returning back after convincing Peter to go with him, Walter and his son fell through some ice, only to be rescued by the Observer.
So, will Olivia tell Peter the truth now that she knows? What is Nina's objective now, seeing how she was against Walter's decision in 1985? And how did William Bell ultimately end up in the other world?
As long as we continue to occasionally get answers by the truckload the way we did this week, with performances as great as Noble's, I'll tune in to find out.
What did you think? Did that episode reinvigorate your interest in this show as well? Let us know on video, or in the comments below.