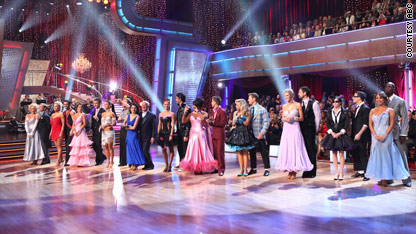 testing captions
Are audiences dancing to a different beat this season when it comes to "American Idol?"
The Los Angeles Times reports that ABC is claiming victory in the ratings over the last two weeks for "Dancing with the Stars" over Fox's "Idol." "DWTS" reportedly drew a larger average of viewers (23.6 million) the past two weeks than the Tuesday total for "Idol" (23 million).
The Monday night episode of "DWTS" scored 23 million viewers while "Idol" saw 21.3 million viewers and 20.5 million viewers for their Tuesday and Wednesday night shows.
Lots has been made this season about "Idol's" lackluster talent, the inevitable departure of judge Simon Cowell and whether the show has "jumped the shark."
But the season is still young and "Idol" continues to beat "DWTS" in the coveted ratings among adults 18 to 49.