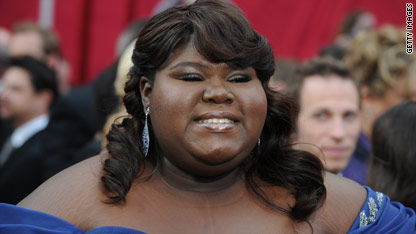 testing captions
Awards season is over, but the honors keep flowing for Gabourey Sidibe.
A rep for NBC confirmed to CNN that the Academy Award nominated-actress is set to host "Saturday Night Live." It will be a first time hosting gig for Sidibe on the venerable NBC show.
The "Precious" star has continued to raise her profile since becoming a frequent awards nominee for her acclaimed movie role. Sidibe is scheduled to host the comedy sketch show on April 24.
It will be a busy month for "SNL" since it is bringing back its  original shows starting April 10 with Tina Fey returning to studio 8H, and musical guest Justin Bieber. Fey is a former cast member and head writer for the show.
Actor Ryan Phillippe will make his hosting debut on April 17 with musical guest Ke$ha.