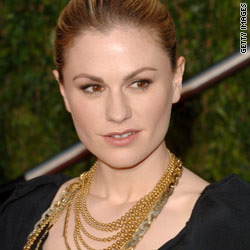 Her name is Anna Paquin, she's bisexual, and yes, she gives a damn.
In a new public service announcement to spread awareness for hate crimes, provided by the Cyndi Lauper-backed organization We Give a Damn, the "True Blood" actress revealed her sexuality along with a host of other celebrities, gay and straight.
Paquin, who is currently engaged to her "True Blood" co-star Stephen Moyer, joined Wanda Sykes, Elton John, and Whoopi Goldberg to encourage others to speak up on the need for equality.
And those are far from the only A-listers attached to the project.
In a separate PSA, featuring Jason Mraz, Kim Kardashian and Cynthia Nixon, Paquin says, "imagine going to work everyday and not being able to share your life with your co-workers out of fear of being let go."
To learn more, visit wegiveadamn.org.