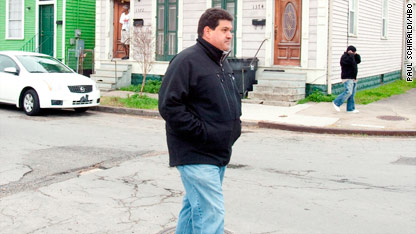 David Mills, a writer and producer for some of the best TV shows of the past two decades - including "Homicide," "Picket Fences," "ER" and "The Wire" - has died, CNN has confirmed through HBO.
Mills reportedly died of a brain aneurysm Tuesday in New Orleans, where he was a writer and co-producer of the new HBO series "Treme." The show is scheduled for its premiere April 11. (HBO, like CNN, is a unit of Time Warner.)
"HBO is deeply saddened by the sudden loss of our dear friend and colleague David Mills," the network said in a statement to CNN and HLN. "He was a gracious and humble man, and will be sorely missed by those who knew and loved him, as well as those who were aware of his immense talent."
Mills was a newspaper reporter when he made the jump into TV writing with "Homicide," a series based on work by his friend and fellow reporter David Simon. The pair won a Writers Guild award for a "Homicide" script.
According to TV critic Alan Sepinwall, Mills was responsible for creating the character of Dr. Romano on "ER." He also won Emmys for his work on the HBO series "The Corner," another Simon project.
"Treme" has earned a great deal of advance press for its subject matter - a neighborhood in post-Katrina New Orleans - and its pedigree, including Simon and other "Wire" veterans. Simon and the show were the subject of a major New York Times Magazine story earlier in March.
Mills was 48.