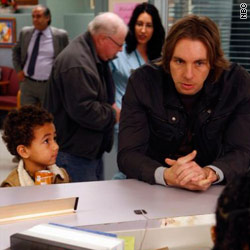 There was a lot of disappointment running through this episode of "Parenthood." Parents disappointed in kids, sisters disappointed in brothers. It was painful to see some of it, but I wasn't disappointed in the episode. I especially liked that they skipped the huge heart-warming family gathering at the end of the show.
Sarah is at school for parent night. A parent notices her "Braverman" name tag, and starts going on and on about Haddie. When she tells him Haddie's her niece and Amber is her daughter, there's a moment of awkward "oh you're HER mother" silence.
Sarah runs out for nicotine gum and runs into Amber's English teacher (played by the late John Ritter's son, Jason). He says Amber is one of his best students, pleasantly surprising Sarah. Imagine her surprise when she discovers the paper the teacher raved about was actually her paper from high school. She was going to rat out her own daughter, but Mr. Sears raved so much about Amber and the paper, she changes her mind.
At the grocery store Adam and Kristina run into the new baseball coach. Surprisingly, Max agrees to rejoin the team. Adam can't get Max interested in practicing, but Sarah's son Drew can get his little cousin to do it.
In a nice scene, Drew calls Adam to ask about going to hit a few. Later, in a not-so-nice scene, Adam has to cancel a practice to keep a promise he made to Max. Drew is very disappointed. When Sarah finds out, she rips into Adam for making Drew wait, when he's spent his whole life waiting for his father who rarely showed up. Adam talks about how disappointed he was he didn't get a chance to practice with Drew. Drew's the one who got Max out to the field and there it's almost like there is no "situation" with Max's Asperger's.
Crosby and his girlfriend Katie are at the doctor talking about fertility. The doctor thinks they should get started trying, given her age. Crosby looks more terrified than usual. Back at the house, Julia is trying to get Crosby to get a paternity test for Jabbar. He goes to his Jasmine to talk about it and she is more than a little offended, and cancels his day with Jabbar. Sarah convinces him to do the right thing, and he finally tells Katie about Jabbar. I can't tell if she's more disappointed he kept a secret in general or that he didn't introduce her to Jabbar that day at the studio.
He is trying to grow up and make the right choices, even if he is making some missteps. Big ones, like using the word "psycho" when talking about how much Katie wants a baby.
What do you think? How's he doing dealing with his ex, his girlfriend and being a parent? Let us know what you think!