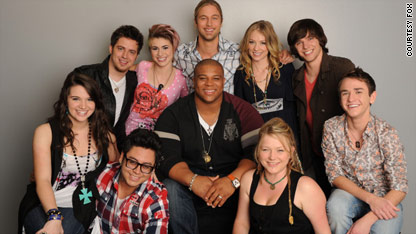 testing captions
SPOILER ALERT!!! Tonight's blog entry will reveal the contestant being sent home from "American Idol." Don't read any further if you don't want to know the results.
9:58 p.m. – I wish they would stop pretending that the "judges save" is even an option at this point.
We very quickly learn that Didi must sing for her shot to stay, and she performs "Rhiannon." We get a shot of the judges whispering and smiling, and I wish they would just keep it real for once. They know they were not even deliberating!
Simon speaks for the judges, and he plays at looking undecided. Of course, they are not going to save her, so Didi Benami is out. Get ready for the waterworks America.
She doesn't completely collapse on the stage like I expected, but she goes into a clinch with MamaSox that says "Hold me up girl."
Fare thee well Didi.
9:50 p.m. – Diddy-Dirty Money "perform" "Hello Good Morning."
I don't understand this new group: Diddy and two chicks dancing and pretending to sing. One of the members used to be in his girl group Danity Kane. I would have rather seen them.
I forgot that Diddy used to be a back-up dancer back in the day. He's still got the moves, and he gets extra points for still attempting to be an artist with all he has on his plate.
The crowd is loving him, though, and he gives Simon a big hug. Who knew they were homeboys?
Diddy sends a shout out to all the young artists who are "bustin' they butts" in the industry. Wow.
9:39 p.m.- Back to the seats, Didi Benami is up and seems to be justifying why she hasn't been using her guitar a lot. What is up with Seacrest tonight all up in people's business?
Didi is off to join Katie in the bottom three. No shocker there.
Big Mike Lynche is up next and Ryan plays a dirty trick, asking him to step over ... only to slap his hand and tell him he is safe!
Mrs. Big Mike looked like she was about to have a heart attack! Big Mike lifts wee Ryan up off the floor and gives him what appears to be a chiropractic adjustment. Big Mike should have tossed him!
Crystal "MamaSox" Bowersox is up next and, of course, she is safe. She lets us know that she totally could have lifted Seacrest, too, and I believe it.
That brings us to Tim "Cute as a Button" Urban and Andrew Garcia as the possible final contestant in the bottom three. Tim it is!
Just like last week, Katie gets sent back as safe and that leaves us with our bottom two, Didi and Tim. Either could bounce as far as I am concerned.
9:30 p.m. – Bieber fever alert!!!!
Justin Bieber is in the audience for his mentor (and our guest mentor this week) Usher's performance. I can swear I heard the tween screams from across the country.
Usher comes on to perform "OMG" and at first he sounds like he is in the wrong key. And what is up with the Bob Fossey hat and moves?
This is not at all the performance I was anticipating. Usher and Will.i.am just didn't do it for me. Oh well.
9:13 p.m. – Big Mike has a phony pony (tail). I guess.
Right after we get some words of wisdom from Andrew Garcia's mama and a visit from the cast of "Clash of the Titans," we start the elimination round.
Up first is Lee Dewyze, who we all knew was safe. (I mean come on!) Next is Casey James, who I wish they would stop needling for "playing it safe." After half a second of a Seacrest pause, we learn that Casey is also safe.
Then Aaron Kelly gets put on the spot about his love life. Seacrest wants to know if the 16-year-old has ever been in love. Things quickly disintegrate when Ryan tries to joke Simon, who comes back with some smack, then Kara gets in it ...
Enough already! After all that, Aaron is safe.
Rising to their feet are Siobhan "Screech" Magnus and Katie Stevens. Screech looks worried but says she is "not defeated." Katie speaks her piece about the career she wants before being sent to the bottom three. Screech looks more upset than Katie.
We are again back to Seacrest being all up in Simon's face at the judges' table accusing him of gloating. Kiss and make up already!
9:05 p.m. – Oh snap!
I forgot that Ruben Studdard was performing tonight. He sings his new single, "Don't Make Them Like You," and he looks good. He's still the Velvet Teddy Bear, but now there is less stuffing.
He's going on tour with Clay Aiken, and I can't wait to see them on stage together again.