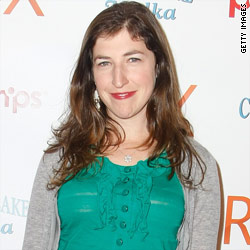 The cast of the hit 90's show "Blossom" will be together once again on Fox's comedy series, " 'Til Death," according to Fancast.com.
The half-hour show, starring Brad Garrett and Joely Fisher, will feature "Blossom" stars Mayim Bialik (Blossom), Jenna Von Oy (Six), and Michael Stoyanov (who played Blossom's oldest brother, Anthony) in a group therapy session.
Joey Lawrence, who played Blossom's lovable if not perpetually ditzy brother, wasn't available. He'll have to be replaced by a "fake Joey," and we can only hope fake Joey gets the "Whoa!" right.
In the episode, set to air April 25, Bialik - who really does have a Ph.D in neuroscience - will play a fictionalized version of herself as therapist Dr. Bialik. She's called on to treat " 'Til Death's" Doug (played by Timm Sharpe), who thinks he's trapped in a sitcom; Bialik will attempt to cure him in a group therapy session with the "Blossom" stars, who will play themselves.
If you still don't see the connection between the two shows, this may help: " 'Til Death's" executive producer, Don Reo, came up with the idea - he was the creator of "Blossom."