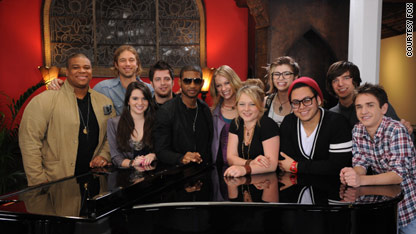 testing captions
Usher on tap as mentor for "American Idol's" R&B-themed night?
Yes please!
If his protégé Justin Bieber's career is any indication, Usher knows how to shape a superstar, so I'm anxious to see what words of wisdom he has for our Top 10.
I also can't wait to see who sings what. Given such an awesome catalog, Lord help these children if they turn in another lame night of ill-fitting tunes.
My money is on Big Mike Lynche to really work it out and make the girls yell "Hey Daddy." That's from Usher's latest single "Hey Daddy (Daddy's Home)," currently in heavy rotation on my playlist. I'd give you more information, but the lyrics aren't exactly suited for family TV time.
Of course Usher has a new album, "Raymond v. Raymond"  (it ain't "Idol" if someone isn't promoting something), and I'm sure we'll be hearing all about his latest project.
I don't mind a little self-promotion if he can help wring a decent performance out of the bunch. Tim Urban, I am afraid for you!
Join CNN tonight and throughout the "American Idol" season as Lisa Respers France blogs live during the performance and result shows.