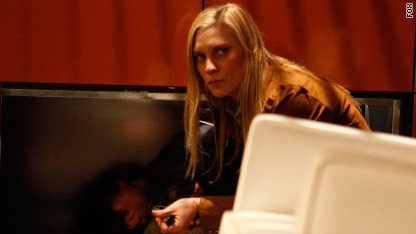 24: Day 8 - 5 a.m. to 6 a.m.
Bauerites, today is a new day. Today is the day we begin our TV watching lives knowing that one of the shows we've known and loved for eight seasons will be no more. At some point, we will be "Bauer-less". Where will we go? What will we watch?
Jack, please... Say it ain't so!
Word came that the show is over when this season ends, and while the news is not a shock, the harsh reality is starting to set in.
I'm going to have to make a big adjustment to life after CTU. As a result, watching last night's episode felt different. I know there's a film in the works, and this season's conclusion promises to be a fitting lead-in to Jack Bauer hitting theaters... but this is a farewell tour, and I want Jack to go out strong.
The show immediately picked up where we left off last week with CTU frantically trying to pinpoint the location of the nuclear rods, all while Dana Walsh runs point for the villains from her desk. I'm fine with her "mole" status, but many readers hate this recycled situation on the show.
I think this time feels different because I want this mole to suffer as much as she has made us suffer with her incorrigible story line. I also expect Arlo Glass to swoop in and save us again with his inevitable, signature "Dana, what are you doing?" line. Once he starts asking questions, the chips always fall. It's coming, and when Dana goes down, she will go down hard.
Note to the show creators: You could fill an entire episode with Dana being tortured. Or, maybe you can just do cut-away shots of Dana as she hangs in complete agony every few minutes. Either way, it's your call. Any way you deliver this, I predict a flurry of high-fives and fist-pumps for Bauerites far and near. Guys, that one was free. I'll have to charge you for the next one.
Meanwhile, I thought the pace of the episode's action was remarkable and never let go with a few unforgettable moments of heart-pounding, tense drama.
As Jack and Renee attempted to move President Hassan and his family out of the U.N., that tunnel scene was well-orchestrated and fantastic to watch. Amidst the clips being reloaded and smoke grenades being tossed, the situation seemed to escalate with every passing moment. Also, the stern words delivered by President Taylor and Brian Hastings were fitting sermons that made all of this FEEL like an authentic crisis. Hastings has flat-out been on a "blog-love" streak for about a month now, and I hope he keeps it up.
Summing it up, this was a stellar episode that hit us from all angles. Its always a good sign when the clock beeps for the last time, and we all take the patented gasp knowing we have reached the end.
At this point, I think I'll save my karaoke rendition of Boys II Men's "It's so hard to say goodbye to yesterday." Its not quite time yet, but I'm currently accepting applications for the coveted title of "my new favorite show." I'll take any and all suggestions from displaced Bauerites, and I welcome your feedback on worthy successors.
Loved, kinda liked, or hated the show? Let us know!