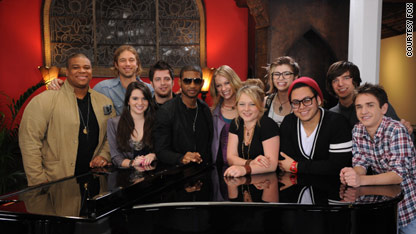 testing captions
9:56 p.m. –I had been waiting all night for Usher to sing just a little bit to display his point, and he did with Aaron Kelly during his rehearsal.
Bill Withers "Ain't No Sunshine" is a big song, especially for a teenager - even one as poised as Aaron. He was good, but he didn't really have the "moment" that I expected to end the show. His practice session was so much better.
Maybe his nerves got the best of him?
9:44 p.m. – Usher is loving him some MamaSox.
Crystal Bowersox is on the piano, singing "Midnight Train to Georgia." Her voice has more soul than all of the other contestants by far. Thankfully, she only plays the piano a little bit because it seemed to be distracting her.
I just wanted her to sing the song all the way through. I don't think I have ever heard Simon tell someone to don't go changing to try and please him.
Another home run out the stadium by MamaSox (who looked great in the stilettos by the way).
9:33 p.m. – I thought we were going to get through one night without Big Mike lifting someone off their feet, but nope. He scoops Katie up backstage in the green room.
*SIGH*
Lee Dewyze takes on "Treat Her Like a Lady," and I want to mail him some confidence. As Usher points out, the boy can sing, and during rehearsal he looked scared to death!  Seriously, if he was standing any farther away from Usher, he would have been out of the room.
I liked his performance, though it was more light rock than R & B. I'm a sucker for a gravely tone, and I  like his Darius Rucker-esque voice though.
I just need Lee to believe that he deserves to be in the game because he is really, really good. The judges can't say enough positive things, and Lee looks like he is about to burst into tears.
Awwwww Lee. We heart you!
9:22 p.m. – I like Katie Stevens, but I have a bias when it comes to Aretha Franklin's "Chain of Fools."
I remember when Fantasia sang this song, and it was almost flawless. Usher is great with the advice and on the money when he tells Katie she needs to bring some pizazz to her performance.
That song is all about the attitude, and bless her heart Katie tries. She was pretty good, but she's no Allison Iraheta from last season. The little rocker chick would've sung that song like the rent was due!
That being said, I thought Katie was very middle-of-the-pack. Randy is OUTSIDE of his mind comparing her to Christina Aguilera, and I am glad that Simon was with me on that.
9:09 p.m. – Seacrest, please don't try and use the urban lingo. It's bad when Randy does it and ridiculous when you do.
Andrew Garcia is next up, and I fear that here comes the pain. Andrew has been disintegrating every week, and it has hurt my heart to watch him.
He does an acoustic version of Chris Brown's "Forever," and I feel like he is forever chasing that moment he had with his "Straight Up" performance. He almost got there tonight.
It was much more of the Andrew we first fell in love with, and he looks so happy. Please stay in that lane, Andrew.
8:57 p.m. – Tim Urban totally doesn't get why they call him "Teflon Tim."
It's cause you should have been gone by now dude!
Don't get it twisted: The names Tim Urban and Anita Baker should never, ever be used in the same sentence. Ever. He sings her classic "Sweet Love," and I anticipated what my homegirl Kelly predicted would be a "10-car pile-up."
Amazingly, it wasn't as horrendous as I anticipated. At first, I thought it was the worst song choice in the world for him, and he was definitely doing the "soul-lite" version. But then I realized that the young girls probably loved it.
That suga-face, with those bangs brushing those sweet eyes singing a love song, is going to score some votes. Tim might be crazy like a fox!
Simon was so on-point in saying it doesn't matter at all what the judges say cause Tim is gonna keep sticking around.
8:45 p.m. – Oh Lord. Must Didi Benami cry every single time?
"What Becomes of the Brokenhearted" is a great song and all, but geez. Her outfit is very Las Vegas casino performer, and she manages to strip every bit of soul out of what is a classic soul song.
That was borderline painful to listen to. Kara says she is confused as to who Didi is as an artist now. Simon takes a swipe at a "dancing show" that have awful singers as performers. Wow, ABC might be calling.
Didi looks irritated at the negative critiques. Really Didi? Really?
Ryan was over the line trying to push her to share her tragic story as to why the song makes her so emotional.  She clearly didn't want to talk about it.  Bad Seacrest!
8:33 p.m. – I kind of like that backstage camera after the performances. Feels more intimate.
I have a feeling that there was a lot of ego in that room when Big Mike Lynche met Usher. I'm just saying.
Mike sings one of my all-time favorite songs, India Arie's "Ready for Love." It was soft, soulful and understated. I loved the arrangement. Nice shot of the crowd swaying.
Just Mike, just his guitar and just what my husband proclaimed to be "a home run right there!" I am starting to see this guy more and more as the next possible "American Idol." He was poised, polished and professional.
Little weird that he sang behind the judges' backs, but whatever.
8:22 p.m. – I wonder what Sam & Dave would think of Casey James' version of "Hold On, I'm Coming."
You can tell he had a great time. His smile said "Oh yeah, I'm in my groove." He sounded good and gave me a touch (though very slight) of an Eric Clapton vibe.  He obviously loves this style of music, as do I.
Ellen gets booed for saying it "felt generic." Allow me to add in my personal boo: BOOOOOO!
I say great confidence and great performance. Well done, Casey!
8:04 p.m. – Lots of leather/pleather on Soul and R&B Night.
Siobhan Mangus is looking straight thrilled over seeing Usher. I would be, too, girl!
I thought he might leave those shades on the whole time because he is just that cool. I like what he has to say about their talent. The audience is loving him. Ryan is funny donning his own shades. Not even close, Seacrest!
I am really going to need Usher to stop chewing that gum though.
Siobhan says she is "wicked nervous." Her outfit during rehearsal is goofy, crazy. Usher has big praise.
She sings Chaka Khan's "Through the Fire," and her performance outfit is crazy, too. I am beginning to see a theme here.
She does have a big voice, but some of those notes were warbly to say the least. She channels her scream to try and do a big finish. Randy calls her "pitchy" but likes her courageousness, whatever that means.
She admits that she didn't "kill it," though I might have to disagree. I didn't love her. Did you?