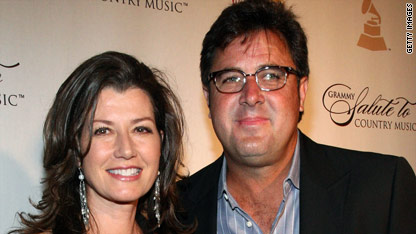 Amy Grant's new CD, which releases today, is not so much a collection of old and new as it is a microcosmic look at a career that includes success on the pop and Christian charts, she says.
The album originally was intended to be a catalog release, that is, mostly previously released songs with a few new songs sprinkled in, but Grant, who said she is still constantly writing and recording, said the album evolved as the song selection process went along.
EMI, the record label that owns her catalog of songs, wanted to pair three new songs with nine from her prior work that echoed the journey through life. But Grant kept coming up with new material that she pitched to EMI.
"I have been in the process of recording songs for the past year," she said by phone. "And when they came up with this idea, we just looked at things at things I had recorded [recently] and chose the songs that we thought made the best package."
So most of the songs are new and four are from her catalog, including a new version of "Arms of Love," written in 1982.
Much of the album was recorded at the new recording studio in the home Grant and her husband, country music legend Vince Gill, own near Nashville. Gill helped produce the album and sang background vocals on several songs, including "Arms."
"Vince is just such a tasteful musician and he was not familiar with that song," she said. "I just said can we take another run at this and would you help me frame this song in a different setting. I like it so much better than the original."
Gill and his daughter, Jenny, sang harmonies on the song. It wasn't the only family contribution. Sarah Chapman, one of Grant's daughters from her marriage to singer Gary Chapman, sang a duet with her mother on "Overnight."
It was Sarah's first time in a studio and at age 17, she is the same age her mother was when Grant began her recording career. Grant said that because of her uncontrollable nervous energy she had to make a conscious effort not to hover and excused herself –- at first -– to the kitchen when Sarah recorded her tracks.
Popular producer Dan Muckala helped produce the song.
"Her daughter is amazing," he said. "She just took right to it. She did a wonderful job."
Muckala - who has produced songs on albums by MercyMe, Leona Lewis, CeCeWinans and the Backstreet Boys - said Grant was ever the pro.
"Amy is such an experienced artist," he said. "She knew exactly wanted and exactly how to get it. But at the same time, she is up for trying anything."
Muckala also helped produce the first single, "Better Than A Hallelujah," which is after five weeks is at No. 24 on the Billboard list of most popular Christian songs.
Grant seemed most excited about that song.
"The idea is you don't have to get all cleaned up to talk to God," she said. "And it such a great, honest, poignant song."