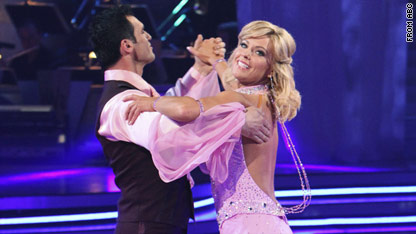 testing captions
The show is called "Dancing With the Stars," but it was more like "Bickering with the Celebrities" on last night's episode as tensions grew between the contestants and their professional dancing partners.
Once again, the biggest drama seemed to follow Kate Gosselin who was shown arguing with her partner Tony Dovolani during the rehearsals for their jive, prompting him at one point to quit and walk out of the room. (He later returned, calling it a weak moment.)
"Nothing in dancing is natural to Kate," Dovolani said, perhaps foreshadowing the actual performance in which Gosselin often appeared lost, unable to remember the steps, and constantly looked at Dovolani for direction.
"Nerves are breaking you," said judge Len Goodman, advising her to relax and go out fighting. Judge Bruno Tonioli compared Gosselin to a Stepford wife, though judge Carrie Ann Inaba gave her credit for bouncing when she didn't know what else to do.
There was also tension in rehearsals between ESPN host Erin Andrews and her partner Maksim Chmerkovskiy, and "The Bachelor" Jake Pavelka and his partner Chelsie Hightower. (But the nastiest moment seemed to come when soap star Aiden Turner threatened to leave if his partner Edyta Sliwinska wasn't more patient with him and glared at her so hard that she walked out of the room –- but all was well for their performance.)
There is no tension, just fun, anytime actress Niecy Nash takes to the dance floor. She performed the foxtrot last night and it's great to watch someone doing well and enjoying herself. Meanwhile, Pamela Anderson channeled Marilyn Monroe for her foxtrot, prompting Tonioli to call it a "delicious tribute."
Once again, singer Nicole Scherzinger finished in the top spot for the night, earning the first 10s of the season for her great jive with professional partner Derek Hough. And once again, former astronaut Buzz Aldrin was in last place, but he looked so debonair in his metallic bow tie and danced so sweetly to "Fly Me to the Moon" as he performed his foxtrot that it's hard to say anything critical.
Who do you think will be voted off tonight?
P.S. Check out our gallery of some of the most memorable moments of "DWTS"