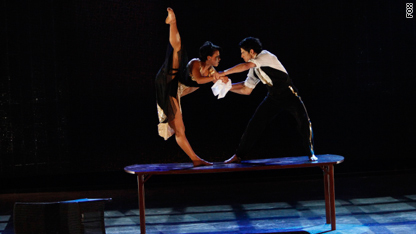 The collective gasp you heard yesterday came from many hardcore fans of Fox's "So You Think You Can Dance," when judge/executive producer Nigel Lythgoe announced some major changes to the show's format.
For the past several days, Lythgoe had been tweeting a few hints as to what they had in store for season seven: No more top 20 dancers, partners would change each week... but no one could have predicted the big bombshell to come.
Lythgoe announced to his Twitter followers (and in a conference call to reporters) that the reason that there will no longer be a top 20 is that the top 10 dancers would be paired up with some all-stars from past seasons. "The dancers will change partners each week picked from an 'All-Star Pool.' Each 'All-star' will be a specialist in specific genres of dance," he said.
So, in some ways, "SYTYCD" will now more closely resemble "Dancing with the Stars," with the contestants dancing with "pros." Most fans of the show will probably welcome the chance to see some of their favorites take the stage again (Pasha and Kayla seem like "all-star" shoo-ins.) On the other hand, it seems that the emergence of favorite couples, such as Katee and Joshua and Allison and Ivan, will be a thing of the past, not to mention the fact that 10 fewer dancers will make it to the "big show" (season six's Ashleigh, for example, almost certainly would never have made it as far as she did in season seven).
What do you think of these changes? Are you looking forward to seeing your favorites return, or do you prefer the original format? And are you excited to see Mary Murphy and Mia Michaels return to choreography this year?