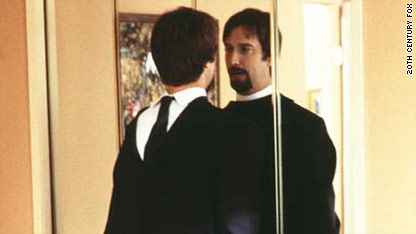 testing captions
So J.D. Shapiro, the screenwriter of "Battlefield Earth," has apologized.
That's nice of him to do, but it doesn't do anything for the thousands of people who ponied up - in good conscience - their share of the film's $30 million worldwide gross,  hoping to see an entertaining film. Instead, they got what the Razzie Awards named the worst film of the decade.
But it could be worse. (Couldn't it?) After all, movies are made for all kinds of reasons – Carrie Fisher once told CNN.com that she made "Appointment with Death" (1988) because she wanted to visit Israel.  Maybe it's true that nobody intends to make a bad movie, but sometimes they do intend to make a tax write-off, or a showcase for a romantic partner.
And audiences go to movies for just as many reasons. Sometimes a bad movie is its own selling point, worth laughing at with your friends. Other times you just want to get into some healthful air conditioning for a couple hours.
Nevertheless, there are few things worse than that feeling that you've just sacrificed two hours of your life that you'll never … get … back. (That's assuming you didn't stalk out of the theater and demand they return your money.) "Plan 9 from Outer Space" is often ranked high (low?) on this list; so are "Gigli," "The Postman," "Freddy Got Fingered," "Howard the Duck" and "Troll 2" – which is now the subject of its OWN film, "Best Worst Movie."
Personally, I'll always hold a grudge against Gabe Kaplan and Robert Klein for a 1981 piece of garbage called "Nobody's Perfekt," which has its own circle of hell in my mind.
What is your worst film of all time? Why did you see it in the first place?