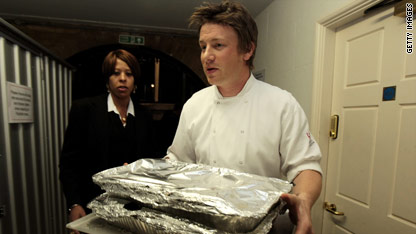 testing captions
The crumply Cockney teddy bear is not here to South Beach, Atkins, Master Cleanse or Michael Pollan your Cheez Doodle dimpled butt into starvation or Whole Foods-based bankruptcy. He just wants you and your kids to know what a fresh tomato looks like. And maybe eat one once in a while. Or he'll cry.
In his native England, Jamie Oliver - dyslexic, erstwhile Naked Chef, husband of Jools, father of Daisy, Poppy, Petal and another to be named upon his (fingers crossed for "Stamen") or her September arrival, and self-proclaimed "professional s**t-stirrer" - has made a cottage industry of calling foul on vile school cafeteria fare and teaching plain ol' British folks not to murder their families with processed food. In the course of this, he's set up community cooking centers and classes, exhorted Parliament to address national obesity issues, campaigned to ban junk food in schools and garnered Prime Minister Tony Blair's approval for £280m in financial support for improved school kitchens and "dinner lady" education.
Oh, and he's sold approximately seventy five squillion books, owns a couple of restaurant chains (albeit one of them, Fifteen, is non-profit), regularly ranks on annual lists of richest Britons and was made a Member of the Order of the British Empire in 2003.
He, with the aid of BFF/show co-producer Ryan Seacrest, has decided to bring his manifesto of fresh, clean, from-scratch cooking to Huntington, West Virginia - cited by the Centers for Disease Control and Prevention and The Associated Press to be one of the unhealthiest, most obese cities in the US. This should go well.
After the de-rigueur montage of massive, headless bodies strolling by in free-form mom jeans and XXXL-sized sundresses, Jamie pilots his SUV (on the correct side of the road, no less - Advantage: Oliver) over to the local radio station (97.3 "The Dawg") to sway a popular talk jock, one Rod Willis to his cause. In a shocking (shocking!) turn of events, Willis takes umbrage with Our Hero's characterization of his city's state of health, and stridently expresses doubt about his mission's potential for success. Quoth he, "We don't wanna sit around and eat lettuce all day" and "I don't think that you should come in here and tell us what to do. I mean, who made you the king?"
Playground bullies everywhere high-five. (Advantage: Willis) Antagonist #1: established. Redemption arc sequence #1: activated. (This is not a spoiler, by the way - just hardly our first time at the reality rodeo.)
Off-air, Jamie dubs Willis a "miserable bastard" and "grumpy old git" (Brit Slang Alert: triggered), nyah-ing that his proposed cooking center and school lunch menu revamp will shut the DJ up. Not bloody likely.
Down over to the elementary school, Jamie states that he's convinced the Board of Education to allow him one (1) tension packed! challenge-filled! will-he-or-won't-he! week to improve the cafeteria's food, prove that the kiddiewinks will gum it down and that it won't go over budget or cause the ground beneath the foundation to yea and verily crack open and send the student body tumbling to Hades in a hail of rainbow chard. He expresses self doubt. It's darling.
Not as darling? His habit of calling the kitchen's staff of battle-hardened cooks, "Girls," "Honey" and, well, "Darling." They are instantly un-charmed by him. This is matched only by his disgust at seeing "the future of America" - many dozen, many of them plump, little Huntingtonettes - gobbling down slabs of sausage pizza and individually packaged servings of cereal, swimming in luminous pink strawberry flavored milk for breakfast, so: stalemate.
Enter Antagonist #2, stone-faced alpha cook Alice Gue, who cannot understand why Jamie is there to change a system that is "working good." A kitchen tour led by one of the beta cooks reveals a suite of truly enviable range tops, ovens and other schmancy equipment. It is profoundly un-used, save for re-heating chicken nuggets. "Welcome to America," sighs Jamie.
Spirits are temporarily leavened when he sees a beta cook kneading up some fresh bread and pitches in, then abruptly deflated when in the course of small talk he inquires as to the length of Ms. Gue's tenure as a "lunch lady." Her expression upon hearing the term ensures that the services of the kitchen's industrial freezers will not be needed for the rest of the school week.
The freezers, by the by, are laden with "an Aladdin's cave of processed crap," but that's nothing compared with Alice Gue-approved "potato pearls." (Jamie: "Is it really potatoes?" Ms. Gue: "I hope so.") Stir the packets of pearls into hot water, and you've got a substance that should the aforemention building foundation crack occur, could form a seal that could withstand Revelations-level plagues. She calls it "a cooks's best friend." Jamie calls it "absolutely disgusting."
He's "pissed off" for the first time, though, dear readers, hardly the last. Citing upset at the "crap" in the faux-tatoes, nuggets, pizza, flavored milks, dessicated chicken bark, packets of pre-scrambled eggs, and other technically edible substances, attempts to rally Ms. Gue to outrage. "Fresh?" she says. "No way." (Redemption arc sequence #2: activated.)
Lunchtime chats with the kids reveals that the majority of the student body is fueled by a multi nugget-based meal-a-day diet, washed down by a tidal wave of artificially flavored milk. Oh – and that they leave the one scratch-made meal component - the bread - for the trashcan. Jamie, manning said receptacle, threatens to cry. (Hint - don't bet against him here.)
Back in the kitchen, Jamie tells the cooks that their food is killing America. Well, not their food, of course, because they're all "brilliant" and "lovely," but they're essentially the Howitzer down which the shell of life-shortening cuisine is fired. And would they like fries with that?
Ms. Gue demurs, "We feed our kids good." Jamie parries that they, "don't feed your kids good." The tension is palpable - and almost as delicious as pearl-based potatoes. They tell him to take it up with The Powers That Be.
He heads to church.
At First Baptist, head-miked Pastor Steve Willis preaches the gospel of nutritional responsibility, backed by what looks to be a rock band. He's clearly the cool guy on the God Squad and he, like Jamie, is fed up with his parishioners feeding themselves to death. Pastor Steve believes that Jamie is, quite literally, the answer to their prayers.
With the pastor's blessing, Jamie drives over to visit some folks sorely in need of a mealtime miracle. The Edwardses are a very large family - not just in number, but in size. That's all we'll say about it, as the Marquee blog is hardly in the sadly robust business of fat shaming; they're reminded of it every day (as we come to find out from 12-year-old Justin), and they're asking for help.
As it turns out, Dad may be out driving a tractor trailer across the nation's highways, but the family's Fry Daddy hardly every misses a meal. Jamie gapes in horror as Mom Stacie deep fries and dunks a "biscuit doughnut with chocolate icing" (Editor's note: Eeeeeek! And also? Mmmmmm!), then loads the kitchen table and counters with all the food the family eats in a week. It appears as if a truckstop lunch counter and the Texas State Fair fell in love and had a food baby. All the food is brown, golden or beige. There are 32 pizzas visible in an open freezer (we counted). They're "for snacks." Stacie giggles in self-defense, but she's clearly shocked and saddened - especially when Jamie tells her that her children will die early from eating this food. (Redemption arc sequence #3: activated.)
There is a ceremonial burial of the Fry Daddy. Jamie jokes that he's worried he'll suffer the same fate when Real Daddy comes him to find his favorite bit of kitchen equipment missing, but he's willing to take the risk.
12-year-old Justin bids it good riddance. He's 350 pounds, tortured at school, and ready to do whatever it takes. He also wants to be a chef when he grows up. Pick-up basketball and healthier cooking lessons ensue. Your recapper tears up a little.
(By the way? Step off, Bieber twitterers. We're claiming #teamjustin for this sweet kid.)
After a scrumptious-looking pasta meal with Clan Edwards, Jamie strolls over to the new Food Revolution cooking center he's established in the center of town. It's under construction, but far enough along that he can take a meeting with Rhonda McCoy, director of Food Services for Cabell County Schools. He asks to be schooled in the ways and means of her people, and what it'll take to get fresh meals to little kids. He's got a whiteboard and a marker. She's armed with binders of USDA guidelines. He looks as if he'd prefer to start huffing the marker, rather than look at graphs and pie (mmm…pie!) charts.
The task before him - within one week, he must:
1. Come in on budget.
2. Nutritional standards must be met.
3. Students must accept the meals.
Jamie is daunted, but game, and pits himself and a beta cook against the Gue Crew. He'll serve fresh, roasted chicken, rice, salad, yogurt and fruit - all made from scratch. They'll serve pizza. The kids will choose.
Fresh loses. Shocker.
Ms. Gue gleefully rubs it in his face. And Jamie's in trouble with the Principal for not providing a starch in addition to his brown rice. And the DJ introduced in the first act finally goes off, making sure that everyone in town knows that Jamie apparently said some unkind things about Huntington's residents' intellect in the local paper.
Jamie claims to have had his words taken out of context and makes his case to the irked Gue Crew. Everyone has a good rant at the media, but they're all still peeved with Jamie. He cries, feeling misunderstood and missing his family. It's sad. Children sing to him and hug him.
Ready for the next course?
On the menu:
Tear Tally: Jamie – 1, Huntingtonites – 1, Recapper – 1
Brit Slang: "grumpy old git," "et" (for ate), "kit" (for kitchen appliances)
Instances of "Pissed-off"-ness: 3
Choice Quote: "Have I seen women like Alice before? Yeah. Do they scare me? Yeah. Will I have nightmares about her? For a while."