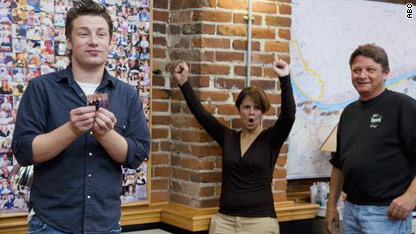 A few months back, I wrote about how the major television networks appeared to be giving up on Friday nights.  Fridays were becoming the night where networks would send long-running series to die, or premiere new shows with no chance of success.
At the end of the piece, I asked if Friday night network TV could be saved.  Over the last few weeks, we have seen signs that a revival could happen - provided the networks show commitment to the night.
Leading the revival is "Jamie Oliver's Food Revolution" on ABC.  The show debuted in its Friday night time slot with a 2.6 rating among adults aged 18 to 49 - the audience that advertisers crave.  According to ABC, "Revolution" produced the network's highest 18-49 number for that Friday night slot since December 2006.
In addition, the show saw sizable increases in both total audience and demo from its "sneak preview" episode that aired last Sunday.  That's almost unheard of nowadays.
And "Revolution" isn't alone in showing signs of life on Friday night.  NBC's genealogy show "Who Do You Think You Are?" has been creeping up on the elusive 2.0 demo target, and its total audience has been at or above the numbers for the highly-promoted "Parenthood" and "The Marriage Ref."  Over on Fox, "Kitchen Nightmares" has been renewed after showing similar jumps in the demo.
CBS, the one network still committed to first-run scripted fare on Friday nights, is also taking a stab at improving its performance that night, premiering the drama "Miami Medical" this coming Friday.   The show has Jerry Bruckheimer as one of its executive producers, and Bruckheimer fare tends to do well on the network.
Do you think the early success of "Jamie Oliver's Food Revolution" could lead to a revival of Friday night network TV?