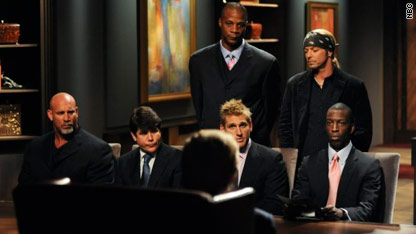 I didn't realize Darryl Strawberry was a wimp until I watched the latest episode of "Celebrity Apprentice."
Norton and Lifelock challenged the teams to create a four-page advertorial about protecting consumers online. Strawberry whined as exhaustion gripped him as he executed his tasks this week. Then, when his team lost, he announced he wanted to be fired. Only two others have ever quit. He expressed fatigue. Trump fired him.
How selfish! The contestants on this show play for charities. Strawberry was playing for an autism organization. He never mentioned that. Maybe he'll redeem himself by donating some of his own money. Want to take bets?
Michael Johnson served as the men's project manager. He took the whiny pill too by complaining that his job was spared because Strawberry volunteered to leave. Weird or stupid? Trump told him to get out before he changed his mind. I would've fired him just because he wouldn't let it go and was the one who deserved it.
Last week, Johnson told Trump that Bret Michaels is not a good follower. This week, I have to agree with him. Bret certainly likes to give orders, even when he's not in charge. I see why the men do not like Bret. If Johnson had listened to Bret's advice, however, it might have helped them win.
I wish Rod Blagojevich would stop telling everyone he sees on the streets of New York that he did nothing wrong. Move forward!
Summer Sanders served as the women's project manager. Let's just say she's one of those leaders who expect others to make her look good. They did. She had no idea what she wanted. I would not want to do business with her.
I would decline doing business with most of these celebrities, in fact. If I were on a team with them, I would make sure I was the coach because they are creative and do well with tasks. Most do not lead well.
So, who will be eliminated next? If the men lose again, they will find a way to get rid of annoying Bret. If the women end their winning streak, silent Selita Ebanks will quietly leave the room.
I'm not quite ready to pick the winner. However, if I were picking the final four for "Celebrity Apprentice," I would pick Curtis Stone, Bill Goldberg, Sharon Osborne and Holly Robinson Peete. Are those your picks as well?