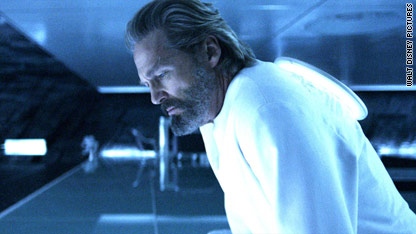 testing captions
Welcome to CNN.com's Trailer Park! This is not the place for Winnebagos and Fleetwoods, but instead your one-stop shopping for the latest and greatest movie trailers out there. Whether they are on the big screen, internet or exclusively available to you here at CNN.com, each week I will bring you new, interesting, jaw-dropping, unusual or just plain crazy movie trailers available for your eye-gobbling goodness. As CNN's film producer I'm exposed to A LOT of movie trailers, and well, it's high time I started sharing them with all of you! So, let's get started!
When I first heard Disney was remaking "Tron" I was in San Diego at Comic-Con. A queasy feeling penetrated my gut. The 1982 original about a man who gets digitally broken down into a data stream by a computer software pirate seemed to hit the nail on the head the first time. So, why keep swinging the hammer, right? But, then I started chatting with "Tron Legacy's" stars, Jeff Bridges, Olivia Wilde and Garrett Hedlund, and well, the dynamic trio got me all excited about their version. I'm so easy! What do you think?
When Elizabeth Gilbert's book, "Eat Pray Love" hit store shelves it impressed so many readers in no time at all she was sitting on Oprah's sofa talking about it. Of course, Oprah's endorsement meant it became mandatory reading for all mankind, and so it's no surprise the autobiographical journey of one woman's international trek of self-love and healing would become a major motion picture. Bonus alert for Julia Roberts fans ~ the ultimate pretty woman plays Liz Gilbert! Here's a look.
It's not always big budget features that grab my attention. Just in time for Mothers Day, Focus Features plans to release a movie all about BABIES! Yes, Babies! Cute, adorable, innocent, perfect little babies! Think "March of the Penguins," but without Morgan Freeman yapping about cold, flightless birds. In this documentary camera crews follow the trials and tribulations for four tiny humans as they make their way into four corners of the Earth. Here's a peek at "Babies"..