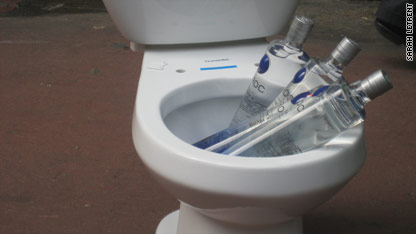 The "P" in P. Diddy just acquired a whole new, more literal meaning.
Martin Silver, the owner of Georgi Vodka, is demanding an apology from Sean "Diddy" Combs after the hip-hop mogul made defamatory (albeit elementary) observations about rivaling vodka brands.
"If you're not drinking Ciroc Vodka, then you're drinking pee pee," Diddy told partiers at Greenhouse, a popular New York City nightclub. Diddy has a 50 percent profit share in the French label vodka, Ciroc and according to the New York Post, has recently begun referring to himself as "Ciroc Obama."
As retaliation, beverage tycoon Silver did what any normal, vengeful person would do - attempt to send the hip-hop mogul a toilet bowl full of vodka.
In what can only be described as an unabashed publicity stunt, Silver protested the statement made by Diddy Thursday afternoon in New York's Times Square.
"Learn to behave yourself and not make these types of statements," Silver told reporters at the "press conference" below Diddy's prominent billboard. "He's bad for business. He's bad for the vodka business ... Our vodka is pure, America vodka - it's made in the United States. His vodka is made from grapes from France."
All's not fair in love and vodka war, though, as the loo delivery was reportedly flushed by Diddy's security.
Diddy has yet to offer a comment.