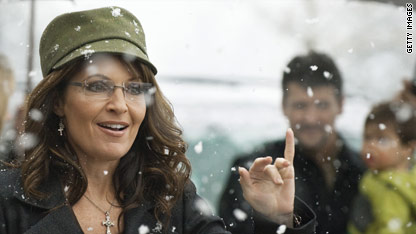 testing captions
(CNN) - Former Alaska governor and vice presidential candidate Sarah Palin will appear in a new eight-part documentary series on the TLC network, parent company Discovery Communications said Thursday.
The show, "Sarah Palin's Alaska," will be "about the remarkable Governor Palin and her home state of Alaska," the Discovery statement said. Its executive producer will be Mark Burnett, who previously was executive producer for "Survivor" and "the Apprentice."
"Discovery Communications is so excited to help Sarah Palin tell the story of Alaska, and to have a great documentary filmmaker in Mark Burnett helping to reveal Alaska's powerful beauty as it has never been filmed, and as told by one of the state's proudest daughters," Peter Liguori, chief operating officer of Discovery Communications, said in the statement.
"We are confident 'Sarah Palin's Alaska' will be another compelling television event," said Eileen O'Neill, TLC president and general manager, in the statement.
Discovery Communications did not specify a date for the series premiere.
Mark Burnett Productions previously co-produced "Eco-Challenge" for Discovery Channel from 1996 through 1999, according to the statement. Burnett was quoted in the statement as saying Palin has "a dynamic personality that has captivated millions ... I can't think of anyone more compelling than Sarah Palin to tell the story of Alaska."
Variety reported on Tuesday the former Republican vice presidential nominee will likely nab $1 million an episode for the program.