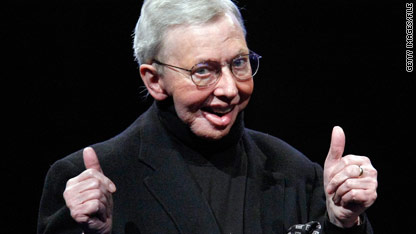 After more than 20 years on the air, the movie review TV show "At the Movies" has been canceled. The weekly, half-hour series made popular by critics Roger Ebert and Gene Siskel will air its last show on August 14.
Distributor Disney-ABC Domestic TV said in a statement: "This was a very difficult decision, especially considering the program's rich history and iconic status within the entertainment industry, but from a business perspective it became clear this weekly, half-hour, broadcast syndication series was no longer sustainable. .. we extend very special thanks to the two brilliant, visionary and incomparable critics that started it all, Roger Ebert and the late Gene Siskel."
Siskel passed away in February 1999. Ebert has cancer - it's been almost four years since he lost his lower jaw and, with it, his ability to speak. And "At the Movies" never seemed able to replicate the pair's chemistry on set, despite the talent of current hosts Michael Phillips and A. O. Scott.