Singer Carrie Underwood is in a good place these days, with a hot career and a wedding to plan.
The country music star is on the cover of Allure magazine this month and talked to the publication about her fiancé, hockey player Mike Fisher.
"He is the person that I see making me happy for the rest of our lives, and he is the person I would do anything for to make him happy," Underwood said during the interview. "I very well may be the luckiest girl in the world."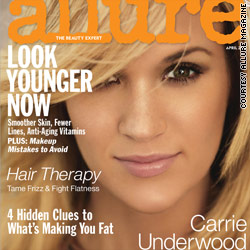 Underwood first came to fame as the winner of the fourth season of "American Idol" and said the show is not as restrictive as the public believes.
"People think they have us under lock and key for the rest of our lives," Underwood said of the "Idol" brass, but "if  I don't want to perform on it, I don't have to ever again. Of course, I will because I'm not a little snot, you know?"
Despite several years in the limelight, the singer confesses that she feels a tad guilty sometimes about her success.
"I think if anybody in my position felt like they deserved it, there'd be something wrong with them," she said. "Because going through 'Idol,' just that process, going to Hollywood and seeing all those people, there were beautiful women who were talented, and for some reason or another, they didn't make it and I did. I'm grateful, but I guess I'm a little guilty."
See all the photos from Carrie Underwood's shoot on Allure's site.