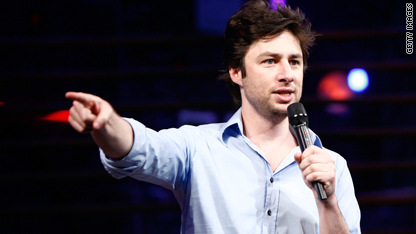 Zach Braff
The effects of the 2007-2008 writers' strike are still being felt. For one thing, it ruined "Scrubs."
Yes, "Scrubs" was still airing as of one week ago today, though I wouldn't blame you if you weren't aware of that. The show as we know it ended in May with the departure of J.D. and the main cast from Sacred Heart. It was a memorable finale with J.D. running into many recurring cast members and guest stars on his way out of those hospital doors. ABC gave the show the finale it deserved after eight seasons, when the strike cut short the number of episodes in its final season on NBC.
But that wasn't the end at all, because ABC wanted another season, which ended up being a semi-spinoff with series star Zach Braff playing a smaller role as a med school professor in a handful of episodes. On Monday, Braff told his Facebook fans that it was all over: "Many of you have asked, so here it is: It appears that 'New Scrubs', 'Scrubs 2.0', 'Scrubs with new kids', 'Scrubbier', 'Scrubs without JD' is no more. It was worth a try, but alas ... it didn't work."
However, ABC told EW.com that an official decision hasn't been made. It definitely wouldn't surprise me if this was the end.
This ninth season was a pretty bad idea all around, though the presence of Dr. Cox didn't make it a total disaster. However, the new characters just weren't as likable as the original cast (Turk was the only other cast member from that group to appear in every episode), and the storyline involving J.D. and Elliot's baby was never resolved. It's just too bad that the show didn't call it quits last year.
What do you think? Do you agree that this season of "Scrubs" should never have happened, or does it still have some life left in it?