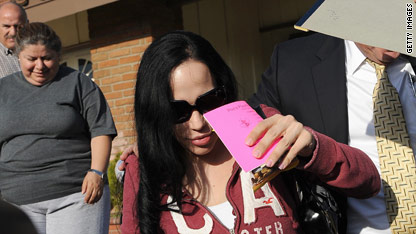 testing captions
LOS ANGELES, California (CNN) - Octuplets mother Nadya Suleman, with 14 young mouths to feed and a mortgage to pay off, is considering an offer to use her lawn to promote responsible pet ownership.
People for the Ethical Treatment of Animals sent Suleman's lawyer an offer to pay for placement of a sign in the yard of her La Habra, California, home. The sign would read: "Don't let your dog or cat become an 'Octomom.' Always spay or neuter."
The ad features a litter of kittens nursing with their mother. The offer is intended to call attention to the dog and cat overpopulation crisis, PETA spokesman Amanda Schinke said.
"Every year, 6 to 8 million animals enter animal shelters, and roughly half of them are euthanized because of a lack of good homes," Schinke said.
The unmarried Suleman already had six children when she gave birth to octuplets in January 2009. All 14 were conceived through in vitro fertilization.
"I'm offended by their comparing her to a cat," Suleman's lawyer, Jeff Czech, said Wednesday.
But Suleman is open to the idea if it pays enough, Czech said. "I sort of have my doubts they'll offer very much,"
After CNN's interview with Czech, PETA revealed it was offering "$5,000 plus a one-month's supply of veggie burgers and veggie dogs for her whole family."
Even if Suleman and PETA strike a deal, zoning rules may prevent it, Czech said. In addition, "the neighbors may not like it," he said.
Suleman missed a $450,000 balloon payment due on her home this week, putting her at risk for foreclosure, Czech said Tuesday. She "remains hopeful" that she and the seller, who holds the mortgage, will reach a deal on the payment, Czech said.
News reports of her financial struggles have prompted other unusual offers besides the PETA ad proposal.
A porn film producer offered to pay off her mortgage if she would star in his movie, Czech said. Suleman immediately rejected the offer, he said.