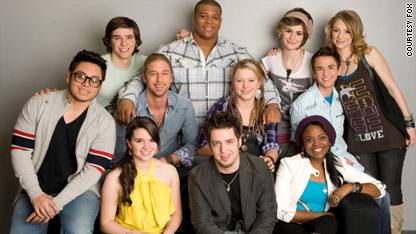 testing captions
*The following blog will contain spoilers about who's removed from "American Idol." You know the drill - if you don't want to know anything, stop reading now.*
9:55 p.m. – Here we go with the results.
The person going home is ...
Paige Miles. We get a shot of some people in the audience who go "Wow." Did they not watch her performance on Tuesday?
Simon doesn't fool around and lets her know off the bat that the judges will not be saving her even if she sings for her shot. How did we get from Simon telling her she has the best voice to this point?
That's the "Idol" for you. It gets all up in your head and breaks you down. And thank goodness she doesn't sing "Against All Odds" again. Instead she does "All Right Now."
If I was Paige I would be thinking, "Dang, I don't get to meet Usher!"
9:48 p.m. –Thanks goodness the little girls are screaming so loud that I can barely hear Demi Lovato and Joe Jonas perform "Make a Way."
They are supposed to be a couple. Demi does what is supposed to be runs in the song - and honey, no. I want to put the two of them in the bottom three.
9:35 p.m. – Tim and Paige are still stewing on the stools.
The lights go down and Aaron Kelly is about to learn his fate. He's in the Top 10, which we so knew.
Didi Benami (I had forgotten all about her) is up next and she's got a great smile. Sorry, when it comes to Didi, that's all I've got. She gets saucy with the judges and calls them out for giving confusing direction.
Ellen and Simon try to give her some direction but she can't hear them up on the stage. Doesn't matter though, 'cause she is safe.
Next up is Big Sexy - I mean Big Mike - and I don't have to say it, do I? He's safe and gives the fingers-up-to-the-sky sign.
Crystal Bowersox is also safe. In other news, water is wet.
That leaves Andrew Garcia and Katie to battle it out for the bottom three. Good for Katie that she says she is going to stick with the Pop/R&B style. Andrew tells Simon that he is mean. He's mean, but he is also honest and usually spot-on.
The person in the bottom three is Katie. What?!?!?
She was so much better than Andrew and I was all about him initially. Thankfully, the person who is safe is Katie. Whew!
So Tim or Paige will face the fire.
9:25 p.m. – So Miley Cyrus sings and plays the piano and I am not loving it. She sounds like she is screaming and straining.
I am loving the fact that Usher will be the guest mentor next week. "Daddy's Home" is my jam and I can't wait to see if they let him perform it, given the risque lyrics.
Back to Miley. She is looking a little La Lohan tonight. I really need someone to check her ID to prove her age. She appears to be holding her neck like a turtle about to go in its shell.
Weird. But WE STILL LOVE YOU MILEY!!! (screaming like a tween).
9:11 p.m. – After we make it through the commercial shoot, we learn that Casey James freaked out during rehearsal.
Siobhan Magnus' boss is there and apparently will not shave until she wins. He looks just like one of those cave dudes from the Geico commercials. And Katie Stevens' dad can't stand to be there for the results, so he is at a bar chilling. I would do that during the performances.
And we get to see Big Mike Lynche with his baby strapped to his chest. AWWWWWWWWWWW.
Siobhan is up first and they let her talk way too long about why she screeches. Seacrest messes with her head by telling her she needs to "pack her bags" – to go on tour. She's safe!
Next up is Casey and Lee Dewyze and instead of giving us a decision right away we go to Paige Miles and Zac ... ummm, I mean Tim Urban. Tim defends his corny performance. Paige looks crazy nervous and says she "lost herself in the song."
I wanted to get lost after her performance. Randy says Paige was the worst he ever heard and Seacrest confirms she is in the bottom three. But wait, Tim is about to sit down - when we learn he's in the bottom three, too!
9:02 p.m. – "Wake Me Up Before You Go-Go?" "Idol," you are killing me.
And why do the guys sound like they are on Auto-Tune? Plus the choreography needed some help. We need your help Paula A. ASAP!