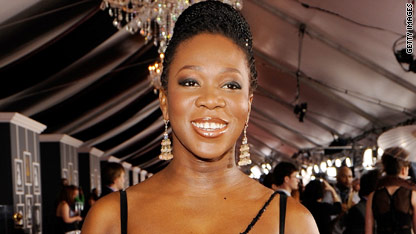 Lady Gaga's nine-minute music video for her single "Telephone" has been described as "epic," but R&B singer India.Arie counts herself among those who aren't as impressed.
The "Video" songstress tweeted on March 18 that she found Gaga's video, with a cameo by Beyonce, to be "socially irresponsible."
"Don't be offended, this is all MY opinion," Arie tweeted. "Am I the only one who thinks the 'Telephone' video goes a bit too far?"
For Arie, the imagery - and the message those images may send - is questionable.
"I agree Gaga's being her image...I dig her creative mind. But still...there's such a thing as being socially irresponsible," she said. "There's an artist every 10 years who pushes the envelope...but its bout to fall off the Table. When is it too far?"
To be clear, it's not the nudity that irks Arie - it's the nudity being used for shock value, she said.
"Crazy to me that the dark, underbelly, shock at all cost thing is a TREND like asymetrical hair and big shoulder jackets. Slippery slope!"
Arie's words have been a slippery slope of their own, as they have led to a backlash. Arie re-tweeted one Twitter user's response to her thoughts, which read, "[expletive] shut the [expletive] up! Your a [expletive] hater! Kuz yo [expletive] will always be a #Flop."
Arie posted a lengthy response yesterday, attempting to clarify what she meant by her statements.
"The conversation I initiated isn't about any ONE, BUT EVERYONE. THIS is a conversation about the state of our society and the state of human kind....a conversation about what we're willing to turn a blind eye to in the name of fitting in," Arie said.
She added that while she respects and admires both Beyonce and Lady Gaga, she doesn't believe that means she has to agree with what they do.