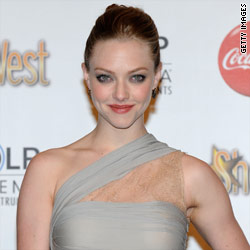 Amanda Seyfried has come quite a ways since playing the "big-boobed idiot" (her words, not ours) in 2004's "Mean Girls."
She starred in the summer blockbuster "Mamma Mia!" with Meryl Streep, followed that with a part in Diablo Cody's much-hyped comedic thriller "Jennifer's Body," and was the lead in 2009's "Dear John" – the first movie to knock "Avatar" out of No. 1.
It's all a part of Seyfried's plan, she said in an interview with Vanity Fair, to play as wide a variety of roles as possible, in hopes that she'll one day find herself with a career like Angelina Jolie's - if she can stay out of the tabloids.
"I don't want to become a brand and I certainly don't want to have a persona. I don't want to be in magazines everyday, because I don't want people to get to know one thing," Seyfried said in the interview. "I feel like Angelina Jolie can still play a character and you can still get lost in it...Even though she's all over the place, and that's unfortunate for her. But luckily she still maintains enough anonymity for us to believe her."
In one of Seyfried's latest ventures, "Chloe," which opens Friday in limited release, she plays the high-end prostitute hired by Julianne Moore's character to test a husband's fidelity, only to end up "needing" Moore's character emotionally as well as physically.
Seyfried said "Chloe's" director, Atom Egoyan, helped make her comfortable in her sex scenes with Moore by telling them "exactly what was needed of us in a very physical, technical way."
"The dynamic in the scene is incredible…it really had a lot to do with the choreography," she added. "More was shown than what normally would have been in any other film…it's never easy to do a scene like that."
While Seyfried welcomes the challenges that come along with small erotic thrillers like "Chloe," it's her romantic comedy roles that pay the bills.
"I like a small production company, a small set," she said. "I'm not bashing studios; it's just a different way of making movies. It's making movies for a different reason: money. And that's all great. We all want money. I mean, I love my apartment in New York."
Although "Dear John" was certainly a success, it was the money from her upcoming rom com, "Letters to Juliet," that paid for her new digs, Seyfried said.
The money may be an incentive, but to avoid getting pigeon-holed, Seyfried said the trick is to learn to say no to the cash.
"You really do have to like hold off on things, even if they're throwing you million dollar pay checks," she said. "There are definitely reasons to do certain things, but I like to stick to good director, good actor, good script."
For the full interview, check out VanityFair.com.