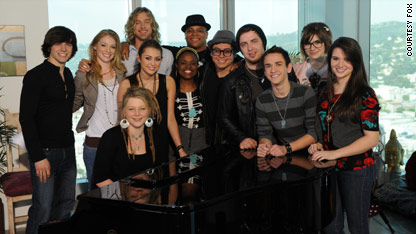 testing captions
"American Idol's" theme this week is Billboard No. 1 hits, and the show's guest mentor knows a little something about that designation.
Miley Cyrus will be kicking it with the "Idol" Top 11 on Tuesday night as she helps to give the group some instruction and direction. Given that she is younger than almost all of the contestants, this should be ... interesting.
According to a press release from Fox, Cyrus is the "youngest-ever multi-platinum artist to have four No. 1 albums in less than three years."
She's also doing it big in the movies these days. She will be next seen in the new Nicholas Sparks film, "The Last Song," which (not so coincidentally) comes out at the end of this month.
But on Tuesday night, the "Hannah Montana" star will be dispensing her pearls of wisdom to this year's "Idol" group, many of whom need all the help they can get. She knows a great deal about having a career in the music industry, but how much she actually knows about singing remains to be seen.
As I said, it should be interesting.
Join CNN tonight and throughout the "American Idol" season as Lisa Respers France blogs live during the performance and result shows.