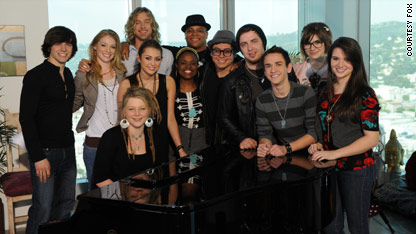 testing captions
9:52 p.m. – Note to Siobhan Magnus: lose those big glasses, sweetie.
I feel like she transforms every week from Geek Girl to Funky Woman from rehearsal to performance. And I don't get the hair this week.
And can we have one performance without the screech? She has a good voice and yet I am always ready to pop my fingers in my ears. I DO NOT understand why anyone thinks that note at the end is so fantabulous (that's fantastic plus fabulous, BTW).
Oh, well.
9:42 p.m. – Of course you should be nervous, Didi Benami. Millions of people are watching.
Didi picked Linda Ronstadt's version of "You're No Good" and I'll give it to Didi for trying to work the attitude. It was still a weird choice.
Why is everyone going for these songs that are probably older than their parents?
9:33 p.m. – Are we to believe that Casey James just realized that he is on "American Idol?"
And did Miley's denim shorts get shorter when she mentored Casey? Hmmmmm.
"Power of Love" could have been a crazy cornball song choice. But somehow Casey made it work for him.
He funked it up a bit and it came across somewhat bluesy. Almost like a baby Bob Seger.
Huey Lewis would be proud.
9:21 p.m. – I have probably said this before but Katie Stevens reminds me of singer JoJo in her look and sound.
I liked her singing Fergie's "Big Girls Don't Cry." The only thing she was lacking was real passion. She just didn't seem like she was connecting with the tune. That could be because she is only 17.
At this point, my expectations are so lowered that as long as people don't come on and pass out on stage, I will probably give them a pass.
9:12 p.m. – Andrew Garcia got all flustered because of Miley. Who knew she had that effect?
It must have spilled over because his "I Heard It Through the Grapevine" was stiff, stilted and a mess.
And did he moonwalk? Come on dude!
They flash on Miley in the audience and she looks like "OMG, this dude is crashing and burning." Or perhaps I am just projecting.
Why old soul music Andrew? Have you lost your mind?
9:01 p.m. –Big Mike Lynche: please stop picking everyone up.
I think I am just going to start referring to Mike as "Big Sexy" because my word! He was courting me with his version of "When A Man Loves A Woman." The judges seemed split on the performance.
He looked really good to me and the song was tight. It was just so manly, smooth, sensual and...let me stop before I get myself in trouble here.
I'll just say he had me saying "My, my, my, my, my, my, my."
8:50 p.m. – MamaSox and Janis Joplin. Sure ya right.
Her version of "Me and Bobbie McGee" was borderline perfect. Crystal Bowersox is so running away with this show this season.
Ellen thinks she is being "stoic" in her performance, but I think she is just doing the darn thing. She may be planning to put the guitar down next week and I can't wait to see that.
Seriously, she could sing standing on her head and still rock the house. Keep on keeping on MamaSox!
8:43 p.m. – It is so cute to watch Miley Cyrus and Aaron Kelly. He should totally ask her to prom.
He doesn't sound bad given the fact that he is sick. If anything, it made his voice sound more mature.
Don't get me wrong: His "Don't Want To Miss A Thing" was far from awesome. But, the thing about Aaron is that he is so earnest you can't help but love this kid. Plus, coming after Tim and Paige this dude was incredible.
That's clearly the key to this season. Try to position yourself after someone who sucks more than you do.
And oh no - Ryan didn't go there and call him David Archuleta!
8:32 p.m. – Four words that make me want to run for the hills? Tim Urban and Queen.
Miley couldn't keep her hands off the kid and gave him a hug during his rehearsal of "Crazy Little Thing Called Love." Let's be honest, the kid has a suga-face and he is all types of adorable.
I was slightly distracted from his singing by his running around the stage and perhaps that was the idea? It wasn't nearly as bad as Pitchy Paige, but even throwing in a little bit of Elvis didn't help.
I'm so bored. Kara is right that the little girls will love it and they are the ones with their fingers ready to text in votes as we speak.
8:20 p.m. – Paige Miles read my hubby's mind by choosing Phil Collins' "Against All Odds."
And how must it feel to have Miley Cyrus call you pitchy? Ouch.
This performance, arrangement, sound, everything was so off. Paige was all over the place with the tone. The countless songs she could have picked - songs that would have showed off her voice - almost anything would have been so much better.
It was super messed up. You know you are messed up when Ellen won't even comment.
And I was Team Paige initially. Dang.
8:07 p.m. – Miley is introduced as a "pop princess." I guess?
She looks like she could be a contestant this season. She is very poised for a 17-year-old. She said the voices this season blew her away. Really?
Lee Dewyze is up first and Miley is really focused on his performance. I think she is spot-on with what she says about his lack of stage presence. He performs "The Letter" and he reminds me a bit of a young Billy Joel for some reason.
I thought he was hot, but Simon didn't. And Kara needs to give Simon a poke for calling her "missy." How rude.