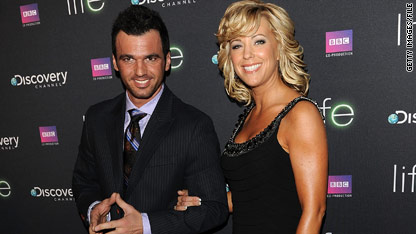 testing captions
Nerves ruled at last night's season premiere of "Dancing With the Stars" – perhaps the only reality show in which contestants sometimes look like they might need an air sickness bag.
Let's start at the end of the program, when a couple of the most talked-about celebrities performed their routines.
Reality TV star Kate Gosselin danced the Viennese waltz with professional partner Tony Dovolani, but seemed uncomfortable twirling in her pink dress. (She also appeared frustrated in the rehearsal footage.) "You looked nervous," said judge Len Goodman.
Dovolani seemed to constantly propel Gosselin during the routine, prompting judge Bruno Tonioli to remark, "It looked like Tony was pushing a shopping cart."
The very last contestant of the night was actress Pamela Anderson, who looked like she had a lot more fun than Gosselin on the dance floor and performed an energetic, fun cha cha. But the judges teased her about her constant head tossing, which almost began to look like a tic by the end of the evening. (You could almost hear her telling herself, "Step, step, head toss, head toss.") She oddly seemed unable to stand still during any point of the show.
80-year-old former astronaut Buzz Aldrin received greetings from the international space station before performing his routine, a cha cha that probably didn't exceed anyone's expectations. But give him credit for going out there and having a good time. The judges were gentle in their criticism, but he and professional partner Ashly Costa finished in last place when the show was over.
The top spot belonged to singer Nicole Scherzinger and professional partner Derek Hough, who danced a lovely Viennese waltz. Other highlights were Olympic figure skating champ Evan Lysacek, who looked elegant performing his waltz, and ESPN host Erin Andrews, who seems to have great chemistry with her professional partner, Maksim Chmerkovskiy.
All of the contestants get to dance at least one more time. No one will be kicked off until next week.
On a separate note: The show now has a new studio in the back of the ballroom where the couples await their turn to dance and applaud the stars who have just finished their routines, but this new set up seems really awkward. First, it seems really orchestrated, plus it's no longer "private" because the audience can see the contestants, so they seem unable to relax.
What did you think of the show and who do you think should be voted off?