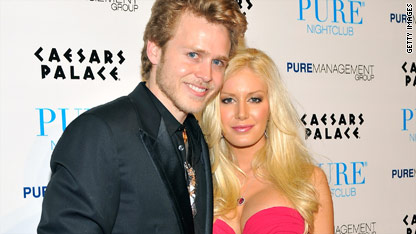 Heidi Montag appeared as a guest on Jay Leno's "Tonight Show" Friday, and although Leno tried to keep the conversation on her career, he couldn't ignore the silicone elephant in the room.
As the conversation inevitably steered towards her recent 10 plastic surgeries, Leno asked if there was anything else she'd change.
Montag - who doesn't think she's addicted to plastic surgery since an addiction "is something you do every day" - said there are still two things she'd augment if the law allowed.
"I would get [my breasts] bigger, but I legally can't right now," she said. "There's a limit - 800 cc - and I have 700."
For the time being though, Montag said she's reached a stopping point. "I think I'm surgery-ed out," she said.
Montag, who will be in recovery for a year, has been able to use her high-profile procedures to land an acting job without even having to audition. She'll appear in the upcoming comedy, "Just Go With It," starring Jennifer Aniston and Adam Sandler.
"They just called me and said 'we'd love to have you,'" she said. "Kevin Nealson [plays] my husband, and he's had more surgery than I have in the movie, so we kept playing around with who has more injections."