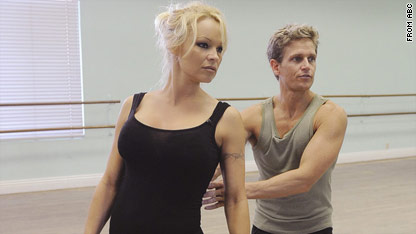 testing captions
It's time again for sequins, boa feathers, fringe and lots of famous faces completely out of their element.
The tenth season of "Dancing With the Stars" begins tonight on ABC with one of the most talked about lineups in the show's history.
The starting field of 11 celebrities includes reality TV star Kate Gosselin, who will be dancing with Tony Dovalani; actress Pamela Anderson, who is pairing up with Damian Whitewood (a new face on the show) and ESPN host Erin Andrews, who is going for the mirror ball trophy with Maksim Chmerkovskiy.
Every season has a surprise contestant and this time it's 80-year-old former astronaut Buzz Aldrin, the second man to set foot on the moon. His official "DWTS" bio teases: "He walked on the moon. Now let's see what those feet can do on Earth." Aldrin says he's been practicing hard to be ready for the challenge.
"When I prance out there with the cha cha step, I've got to be filled with far more confidence than I was when we began to land on the moon," Aldrin told CNN before a rehearsal Friday.
Other stars include Olympic skating champion Evan Lysacek, actress Shannen Doherty and soap star Aiden Turner.
Tom Bergeron is back as co-host, but he's now joined by actress and former "DWTS" champ Brooke Burke who replaces Samantha Harris. (Harris quit the show in January to focus on her correspondent duties at "The Insider," according to People magazine.)
Also back: Carrie Anne Inaba, Len Goodman and Bruno Tonioli, the three judges on the show.
The first night of competition will feature the cha cha or Viennese waltz.
Who do you think will be the first contestant to go? Who will be the one to beat this season?