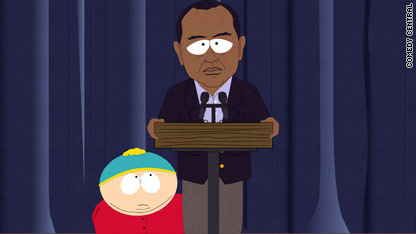 Fourteen seasons in, when most shows would have run out of steam, "South Park" continues to be one of the most topical shows on TV. Wednesday night's season premiere was yet another example of that, as creators Trey Parker and Matt Stone took aim at Tiger Woods, David Letterman and the spate of recent sex scandals.
For starters, it was pretty brilliant for the "South Park" version of the Woods scandal, up to and including this week's announcement that he's returning to golf, to be included as part of a golfing video game (don't forget the secret game controller code for a "Prenup Power-up!").
Later, when Kyle and Butters were found to have caught the sex addiction disease, via a very scientific test asking "What color was the handkerchief?", they were placed in rehab with Woods, Letterman, Charlie Sheen and former President Clinton. The most important thing they learned, of course, was to avoid getting caught.
This was definitely an improvement over last season's "cameo"-filled episode about celebrity deaths (plus, these days, any episode where Kenny dies - and he did so spectacularly here - is usually a winner). However, when sex addiction was blamed on space aliens in the last third of the episode, it didn't quite work for me.
Even so, it ended on a pretty hilarious gag with Stan and Cartman becoming easily bored with their video game once Tiger started playing golf again.
What did you think? Did this show measure up with some of the better episodes of "South Park?" Are you looking forward to what Parker and Stone have up their sleeves for the upcoming 200th episode? Share your thoughts on video, or in the comments below.