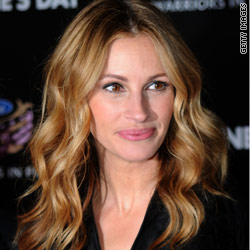 The trailer for Elizabeth Gilbert's best-selling memoir "Eat, Pray, Love" has arrived months before its August 13 release date, and it offers a tasty tidbit of what fans of the book - and fans of Julia Roberts - can expect.
Judging from the clip, the adaptation stays pretty close to the text - Roberts' marriage ends and she sets off on a year-long journey to Italy, India and Bali because she "wants to go someplace where she can marvel at something," seeing that she'd spent the majority of her life either getting into a relationship or getting out of one. Or, in other words, she wanted to have a relationship with pizza - for once - instead.
The last time we saw Roberts in a lead role, it was opposite Clive Owen in the 2009's romantic caper  "Duplicity," which didn't do all that well with critics or in theaters. With the nearly endless hype surrounding Gilbert's recount of her travels, it's practically a guarantee at this point that Roberts won't be attached to another dud.
Starring alongside Roberts is Javier Bardem, James Franco and Billy Crudup.