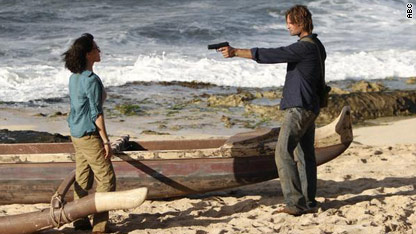 [Editor's Note: You know the drill by now. If you haven't seen this episode of "Lost" yet, DON'T READ ANY FURTHER.]
When last we left Sawyer, he had joined up with the Man in Black in order to finally, at long last, get off the island. On Tuesday night's episode of "Lost," we discover that that truly is all he cares about, and he'll do just about anything to achieve that goal.
The Man in Black has much the same mindset, as it turns out. At one point, he tells Sawyer that he is the "smoke-thing" ("monster" is "name-calling," after all), and that he gave ample warning to the Others at the temple before snuffing them out. On the island, it's kill or be killed, and nothing should stand in the way of getting off the island.
The intrigue on the island, for the second week in a row, was almost equaled by this week's "flash-sideways," which began in exactly the same way as Sawyer, a.k.a. James Ford's first flashback in season one... except that this time, con artist James was working for the cops. His partner? None other than Miles, who probably uses those psychic powers to solve crimes. Now there's a spin-off I'd like to see (the new Starsky and Hutch with a twist, perhaps?).
It turns out that in this timeline, when James came to a crossroads on being a crook or a cop, he chose the side of law and order (did the influence, or lack thereof, of Jacob play a role?). He explained as much to his blind date, Charlotte, a friend of Miles (one has to wonder what's become of Faraday here). You have to hand it to Josh Holloway, he has had chemistry with pretty much every actress he's been paired up with on this show, and Rebecca Mader is no exception.
Despite his attempts to go on the straight and narrow, there is still vengeance in James' heart, which Charlotte finds out the hard way upon discovering the truth about his past with the real "Sawyer." Soon, Miles figures out about James' recent trip to Australia to find and kill "Sawyer" (the same reason con man James went there). Lest we forget, the real "Sawyer" is none other than Locke's father, whom we learned a few weeks ago is on good enough terms to be invited to Locke's wedding.
No sooner does James confess the truth to Miles than a fugitive crashes into their car... yes, it's "Freckles" herself, Kate Austen, back into his life once again, almost as though it's destiny. Score one for the Sawyer/Kate 'shippers.
Back on the island and the "real" timeline, the Man in Black has a mission for Sawyer: travel to the other island - where he and Kate spent some time in cages in season three - and do some reconnaissance. What does Sawyer find there? A pile of dead bodies from Lapidus' plane, and a sole survivor. But this being "Lost," things are not what they seem, and in a pulse-pounding moment, the survivor is revealed to have a few friends with guns, who take him down to a submarine to meet one Charles Widmore.
Con man Sawyer (whose lying skills are much admired by the Man in Black) swings into action and he scores a deal to hand "Smokey" over to Widmore in exchange for passage off the island, along with those in his camp. It's a deal... a deal soon broken when Sawyer spills it to the Man in Black. That night, Sawyer tells Kate the real plan: to take that submarine to freedom while Widmore and "Smokey" fight it out. Somehow I don't think it will work out quite that way.
A few more lingering thoughts on this episode:
– Out of nowhere, Claire attacks Kate for raising her child, as Sayid looks on, emotionless. The Man in Black takes Claire aside, admonishing her, and later Claire apologizes to Kate. I'm not buying that for a minute.
– The Man in Black also compares his own mother to wacko Claire while talking to Kate. Is his mother really at the root of all this?
– Widmore was quick to agree to Sawyer's deal for a shot at the Man in Black. Is that really what he's been after all this time?
– Did Widmore really kill those passengers on the "New Otherton" island?
– Creepy Claire moment of the week: Holding Kate's hand when the Man in Black tells the Oceanic flight attendant and children about what happened to their friends at the temple.
– For that matter, the cast as a whole has really come through this season in a big way. Great performances all around.
Finally, are you as psyched as I am for next week's Richard-centric episode? Share your thoughts, theories and more on video, or in the comments below.