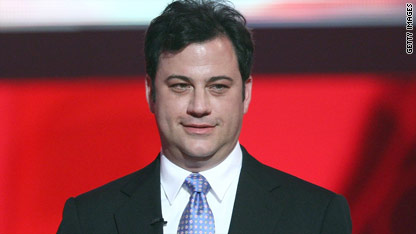 Jimmy Kimmel was on the other side of the desk last night as a guest on "The Late Show with David Letterman," and he spent part of it reminiscing with Letterman about the good ol' days, back in January, 2010, when Leno was the butt of Letterman and Kimmel's jokes and the only loser in all of it was NBC.
From one comedian to another, Letterman told Kimmel how much he truly enjoyed his participation in the Late Night Wars, to which Kimmel fired back, "yeah, thanks for inviting me to your Superbowl party."
Yes, that Superbowl spot with Letterman, Jay Leno and Oprah Winfrey snug on a sofa left Kimmel as the odd man out, and seemed to squash the Leno cracks in the late night monologues.
"I wanted to keep it going – we had him, we were drowning him, and then you throw a lifesaver to him during the Superbowl!" Kimmel grumbled to Letterman.
Kimmel, who did an entire show dressed as Leno, chin and all, had been particularly brutal when he was invited to do Leno's "10 at 10" segment on the now defunct "Jay Leno Show."
"He asked me ten questions about nothing and I asked him ten questions about stealing Conan's job from him," Kimmel said, to which Letterman responded that it was all in good fun.
"It was funny and nobody got hurt," he said. "The only people that got hurt was NBC, and they lost hundreds of millions of dollars. We don't care about NBC. Jay didn't get hurt, you didn't get hurt, Conan didn't get hurt, I certainly didn't get hurt – it was a lot of fun."
Kimmel was doubtful that Conan O'Brien would term losing his job "fun," and noted that Leno hadn't exactly laughed it off either.
"He went on 'Oprah' and said I sucker-punched him…and I didn't feel like I did," Kimmel said. "But then I looked it up in the dictionary and it turns out I did."
Still, Letterman said, it was all in jest.
"This was like how it used to be," the "Late Show" host said, "when we would all be at The Comedy Store" and we were insulting and attacking one another and we couldn't have had a better time...to me that's what it was reminiscent of."
Yeah, Kimmel agreed. "It was a lot of fun...I'm going to miss it, I really am."