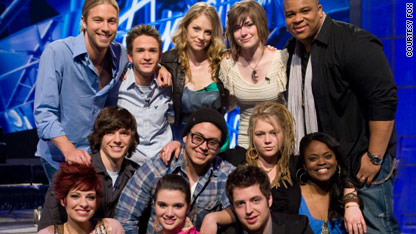 testing captions
!!! You know the drill: Spoilers ahead. If you don't want to know what happens on "Idol" tonight, STOP READING NOW. !!!
9:56 p.m. – Paige and Lacey await their fate. So sad that they are roommates. That's got to be rough.
After the vote, the person in danger is Lacey, who must sing for a possible save. Good call between the two, America. Paige sang with no voice.
Lacey sings "The Story" and the judges huddle like they are really discussing something other than where they are going to eat tonight. No way they are throwing away that "Judges Save" this early. Lacey sang her little heart out, but they are not gonna save her. I'm not at all surprised and Lacey doesn't appear to be either. Poor Katie looks a mess, though.
9:48 p.m. – Someone please explain to me why Ke$ha has a career in the music industry? She "performs" (I guess) her new song "Blah, Blah, Blah" and for half a second I think one of the dudes on stage with her is Jason Bateman.
Hang it up, Ke$ha. Lady GaGa has been there, done that and done it ever so much better.
9:36 p.m.- We are now on to the bottom row of contestants and Didi Benami is up first. For some reason, I could so see Didi on "Glee." I think she would make a great Cheerio.
Didi is safe and she blows a kiss to Mommy Benami who is in the audience.
Next up is Crystal Bowersox. Mamasox doesn't want you to get it twisted – she's not being arrogant and thinking she has it in the bag. Yeah, MamaSox, let us think that for you. Crystal is safe, of course.
Katie Stevens stands and as a co-worker has pointed out, she looks like Katharine McPhee's little sister, especially tonight with the side ponytail. Kara thinks she should be doing more pop/soul, Simon says more country and all of the judges have their own opinions. That is so the problem this season. No consistence in direction.
Katie is safe.
Big Mike Lynche is "here for the people," he says. His relationship with "the people" is "singular." Big Mike is going to have to dial that confidence back a notch or else it's gonna get ugly for him. Mike is safe.
That brings us down to Casey James and Lacey Brown and Lacey is sent to the bottom three.
We very quickly learn that the person who can head back to the couch is...Tim Urban! He looks like he is about to pass out with shock. Yeah Tim, I feel you on that.
9:25 p.m. – Paige and Tim look good sitting together.
They're going to have to wait a minute, though, because Orianthi is up first to perform her single "According to You." She played guitar for Kelly Clarkson and was set to play with Michael Jackson on his final tour. She's cute and I love the accent, but I would rather have heard Kelly Clarkson do that song.
9:13 p.m. – Boy, I have missed the product placement on "Idol." Not!
Everyone looks so glum on the couches. Paige Miles is up first and she is in the bottom three.
Wow, right off the bat. Let's not waste any time here. Lee Dewyze is up next and he is way too long-winded in his response to Ryan's question about creating "a moment." Lee is safe and he looks relieved.
Siobhan Magnus is up next with a crocheted thingy on her head. She's a quirky chick, this one. I love how they are hopping around the couch to keep the suspense level high, but there's no worry about Siobhan. She's safe.
We then go to Aaron Kelly and Randy tries to explain why he compared him to Justin Timberlake. I need Randy to never try again to sing a note because he sounded a whole hot mess. That's right, I am judging the judges!
Anyhoo, Aaron is safe.
We next have a double stand-up with Andrew Garcia and Tim Urban - and Tim Urban is headed to the bottom three while Andrew is safe!
9:08 p.m. – The stupid "Judges' Save" is back this year. I never liked that particular gimmick.
So good to see David Cook back on the stage. His "Jumping Jack Flash" was great. Now that's how you do the Rolling Stones!