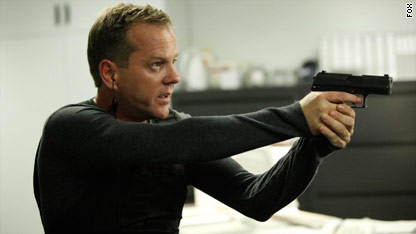 24: Day 8, 3 a.m. to 4 a.m.
Welcome back Bauerites... Where should we begin? I've got an idea. Let's start nine minutes into this latest episode of "24." As I recall, the nine minute mark is about the time five officers had already been taken down, and I said to myself, "Oh, it is SO ON tonight!"
For those keeping score, five officers down should be somewhere in the neighborhood of this entire season's tally of good guys getting offed. For time's sake, I'll be happy to confirm that stat in a future blog. Stay tuned.
Anyway, readers know I won't hesitate to wax poetic about speaking aloud to myself while watching (don't judge) and normally, that's a sign. If I'm talking to the TV, its either one of two things: either I'm hungry for something good to happen because there's some "dumb time" being taken in the show OR I'm being served a heaping helping of tense, action-packed Bauer-style drama.
Well, in this latest episode, I got a HUGE plate piled high, buffet-style. The more action I wanted, the more the show gave me, serving after serving. By the time the bill came, (read: credits rolled) I was both stuffed and exhausted. The verdict? Satisfied.
I thought this was easily the best episode of the season. As the plot twisted, bobbed and weaved its way through the hour, I was on the edge of my comfy "24 watching" seat the entire time. Even with the obvious deficiency of the "ghost of the dumb subplot past" (aka the Kevin/Dana saga), it was still a strong show.
While I won't deduct points from the show's score for the appearance of Kevin's probation officer, I won't ignore the fact that this character is an annoyance at CTU. He's also an annoyance on my TV screen. Get rid of him.
With my newfound "R.E.S.P.E.C.T" for Hastings firmly in place (sing along if you like), I was gripped for the entire show. I loved Chloe's elevation up the CTU food chain, and her subsequent order-barking just as much as I loved Jack's quick reads of how things were shaking out.
Sidebar: It's gotta be frustrating if you're a terrorist with your clear, well-developed terrorist plan, and you can't even get to steps 3 or 4 of the plan, because Jack's figured out the clear, well-developed plan as you stay stuck on step one. Sorry guys, that's just the way it is.
The show's pace went from fast to furious to frenetic a few times by my count. The kidnapping was clever, the discovery of "file 33" was a nice touch, but the delivery of the EMP to CTU via Hassan's daughter at the end was a stroke of genius. Put a check mark in the "awesome" box for the bad guys.
All in all, the streak continues. Its pretty much customary in recent weeks for us to take those patented "gasps" of air when the clock shows on screen, signaling a commercial break. We decompress, regain our wits, and strap back in for the rest of the show. That's what I felt. That's exactly what I felt, and that familiar itch I get as the previews are shown is back! I can't wait for the next episode. With CTU's defenses down, we're all set for another thrilling show again next week. Keep watching!
Loved, kinda liked or hated this week's show? Let us know.